FM: US remarks on China's law 'irresponsible'
(Agencies)
Updated: 2005-03-10 17:26
China has slammed as "irresponsible" US criticism of its new anti-secession legislation, and urged Washington not to "embolden" Taiwanese separatists.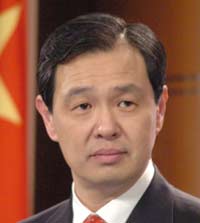 Foreign Ministry spokesman Kong Quan. [file]

"We oppose their statements. We believe they should not make such irresponsible remarks about China's legislative action," Chinese Foreign Ministry spokesman Kong Quan said at the ministry's press briefing on Thursday, March 10.

"We request the US side abide by the standards of international relations, understand and support China's legislative actions and not do anything to embolden Taiwan independence forces or harm Sino-US relations," Kong told a regular briefing.

The United States Tuesday said the anti-secession law was "unhelpful" and urged Beijing to reconsider the measure.

Under the proposed law, "non-peaceful means" will be used only as a "last resort" when all efforts to seek a peaceful reunification prove to be futile.

"We view it as unhelpful and something that runs counter to recent trends toward a warming in cross-strait relations. We would call on Beijing to reconsider passage of the law," White House spokesman Scott McClellan said.




Today's Top News
Top China News

Italy PM disputes US version of hostage shooting




China to reform procedures for death penalty




FM: US remarks on China's law 'irresponsible'




Lenovo wins US nod to buy IBM PC




Corrupt officials seized and punished




People's congress prepared to 'fulfil history'