Prospect bright for cross-Straits agro cooperation
(Xinhua)
Updated: 2005-03-10 15:31
The increasing cooperation between the Chinese mainland and Taiwan complement in agriculture has "bright prospects," Minister of Agriculture Du Qinglin said in Beijing Thursday.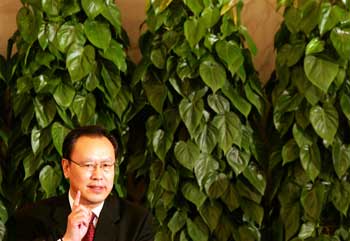 Du Qinglin, minister of agriculture, answers at a news conference at the National People's Congress in Beijing March 10, 2005. [Reuters]

"Encouraging progress has been made in the past two decades in cross-Straits agricultural cooperation," Du said at a press conference on the sidelines of the ongoing third annual session of the 10th National People's Congress.

The mainland and Taiwan are complimentary in agricultural development, he said, adding, "Taiwan has advanced technologies, improved strains and species, while the Chinese mainland has rich resources and a huge market."

Based on these advantages, several trial cooperation programs have been launched in the provinces of Fujian, Hainan and Heilongjiang. "We'll improve the environment and create favorable conditions for Taiwan's farm produce to enter the mainland market."

Taiwan's farming industry faces intensified competitions after the province's accession to the World Trade Organization in 2002. Tons of agricultural products, especially fruits, are facing dire plight on the market. To resolve the problem, many people engaged in agriculture and related business resort to the mainland, where the Chinese Ministry of Commerce said has no special restrictions on their entry at present.

Last year, the mainland bought 116 million US dollars worth of farm produce from Taiwan, 10.4 percent more than the previous year. The figure made up only 1 percent of the Chinese mainland's total imports of farm produce in the year, according to the Ministry of Commerce.







Today's Top News
Top China News

China to reform procedures for death penalty




Lenovo wins US nod to buy IBM PC




Corrupt officials seized and punished




People's congress prepared to 'fulfil history'




41 corpses found in Iraq; blast kills four




Chinese firms join Galileo project