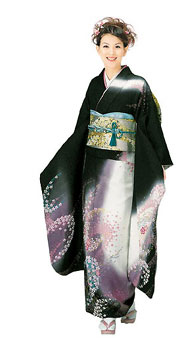 a modern girl in kimono
Japan's ancient capital Kyoto will give free transport and museum entry to anyone who wears a kimono in a bid to support the traditional but infrequently worn garment, a city official said Tuesday.
"We will offer free tickets for subways, buses and 20 sites in the city for 11 days from Friday to anyone wearing a kimono," said Ami Tsujii, Kyoto official in charge of promoting traditional industries.
Foreign tourists are eligible and can rent a kimono for 3,000 yen ($28) a day, she said.
Kyoto, home to hundreds of temples and shrines, served as Japan's main seat of government from the eighth to 17th centuries and remains one of the few places where people in kimonos are a common sight.
It is also a major center of the textile industry that makes kimonos, which in 21st-century Japan are primarily worn for special occasions such as official holidays and are usually more intricate and expensive than modern clothing.
Tsujii said Kyoto was concerned that "people have fewer opportunities to see or wear kimonos."
Free admission to some tourist attractions, including museums, the Kyoto Tower overlooking the city and the Nijo Castle which was the residence of the shogun rulers of the 17th-18th centuries, will also be available for kimono wearers during the period, and a kimono fashion show and kimono flea market are planned.
Free tickets for the transportation and tourist facilities will be available in subway stations, buses, hotels and elsewhere in the ancient capital.

(BBC)
日本古都京都的一位官员本周二表示,为了宣传日本的传统服装——和服,京都市政府做出决定:所有身穿和服的人都可以免费出入地铁和博物馆。现在日本已经很少有人穿和服了。
"从星期五开始,我们将为所有(在公共场合)身穿和服的人提供免费的地铁和公车车票,以及市内20个历史遗址的门票,此次活动将持续11天。"负责推动传统产业发展的京都官员安美·辻井说。
她说,外国游客们也可以租赁和服,价格是3000日元(28美元)每天。
京都拥有几百座寺庙和神社,在公元8到17世纪,京都曾是日本政府的主要所在地。在日本,现在只有很少几个地方才能在平日里经常看到人们身穿和服,而京都就是其中之一。
京都还是日本主要的和服生产中心。在21世纪,日本人只有在国定假日等特殊场合才会穿上和服。和服通常比现代服装的设计更精细,价格也更昂贵。
辻井说,京都政府担心"人们看到和服或身穿和服的机会越来越少。"
如果游客们在活动期间来到京都,只要身穿和服就可以免费参观一些引人入胜的景点,比如博物馆、可以鸟瞰全市的京都塔以及17、18世纪幕府时代的将军府邸"二条城"。"和服风情展"和"和服跳蚤市场"等活动也在筹划当中。
人们可以在地铁站、公共汽车、旅馆和古都的任何地方获得免费的交通和景点门票。

(中国日报网站译)