Beijing police hone their language skills
By Mu Zi (China Daily)
Updated: 2005-03-10 06:27
Education should have been the last thing on the mind of Xu Jie, now a 39-year-old Beijing police officer - but he ended up with a schoolbag and became a full-time student at a foreign university.
Six months ago, Xu got a master's degree in international liaison and communication at the University of Westminster in London after a one-year course.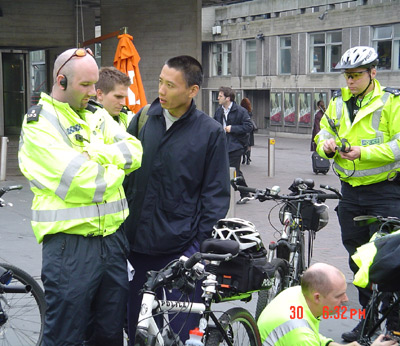 Meng Dage, a Beijing policeman studying in London, talks with local patrolling police officers. Meng was sent by the Beijing Municipal Public Security Bureau to sudy international liaison and communication a the University of Westminster. [newsphoto]
"It was tough for me - such an 'old' student - to finish the course in one year. I got less than six hours of sleep daily," said Xu, deputy head of the Exit/Entry Administration of Chaoyang District.
Apart from his studies, Xu had a special mission - to exchange ideas with his British counterparts.
"During my study in London, I visited many police stations and participated in a number of professional workshops. I exchanged experiences with the local police on many aspects such as community policing, traffic management and anti-terrorism.
"I learnt a lot from them. The most important was the way of thinking. In the past, my only emphasis was on how to maintain public order, but now I realize that a good cop should feel the pulse of the people to build a harmonious society," said Xu.
Nine of Xu's colleagues also attended the course which ended in September 2004 - they are the first batch from Beijing to receive language training in foreign countries as the Chinese capital prepares for the 2008 Olympic Games.
Xu Lijing, a senior official with the Beijing Municipal Public Security Bureau who is in charge of the training programme, explained why language skills were so important.
"The world community has two major concerns about the Beijing Games. One is security, and the other is the language barrier." The bureau launched language-training programmes in 2001.
"We have selected 133 police officers to receive language training in countries such as Britain, Germany, Australia and Canada," said Xu Lijing. This year, a total of 124 Beijing police officers will go abroad for training.
"Meanwhile, we provide on-the-job language training for police, especially those patrolling the streets and neighbourhood police staff providing services at the grass-roots level," he added.
Liu Shengli, a translator with the traffic administration authorities and one of Xu Jie's classmates, said his English has improved a lot after the one-year course in London.
"What is more important, I made many friends there and learned a lot from the local police," said Liu.
"For instance, two years ago, the London traffic authorities started levying a charge on vehicles entering downtown areas to reduce chronic congestion.
"The authorities made an exhaustive survey before deciding on the toll. Although shopping malls in the downtown area protested at the toll because it would affect their business, it has proved to be effective as traffic jams have dropped 30 per cent.
"I think Beijing can learn something from London. I do not mean that we should introduce the same levies as London did. After all, the traffic conditions in the two cities are different. But our traffic management authorities should consider conducting comprehensive surveys and solicit public opinion before announcing any new policies," said Liu.
Guo Huiqun, a translator in the Public Security Bureau of Dongcheng District, also a fellow student of Xu and Liu, said she was nervous to speak English when she arrived in London
"My professor told me: 'Come on. You are a Beijing policewoman. You will meet a lot of foreigners.' His words encouraged me. Later on, I tried to speak more and practice really makes perfect."
Today's Top News
Top China News

People's congress prepared to 'fulfil history'




Lenovo wins US nod to buy IBM PC




Corrupt officials seized and punished




State banks urged to reform with gov't input




41 corpses found in Iraq; blast kills four




China hints at death penalty reform