Boo to the birds lost in translation
By Guan Xiaofeng (China Daily)
Updated: 2005-03-10 06:21
It's enough to ruffle the feathers of eminent linguists.
Electronic audio players installed to scare birds off the runway at the Capital International Airport in Beijing have failed because they emit a foreign tongue.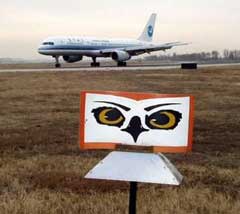 A bird deterrent is set up to solve the nagging problem of birds at the Capital International Airport in Beijing March 9, 2005. This equipment along the runways scares away birds with a picture resembling the face of an owl. [newsphoto]

The machines were imported from the United States and play sounds of predatory birds such as hawks to shoo away birds which pose a danger to aircraft.

But the birds are apparently unruffled by the foreign squawks because of a "language barrier."

So staff have hastily recorded the sounds of Chinese hawks into the machine. However, they will have to wait a while because the non-plussed peckers are migratory and have departed after spending several secure weeks happily roosting and feeding on grass bordering the airstrip.

"Birds do have their own ways of communicating and understand the sounds made by their natural enemies," said Zhang Zhengwang, biology professor and a bird expert from Beijing Normal University.

Earlier this year, the airport installed scarecrows in the shape of birds of prey which sway in the wind. They had some success. And dozens of bird nests have been removed from the top of nearby lamp posts on the perimeter road.

"Bird strikes can be very catastrophic. Though our airport has not experienced major bird-strike accidents that caused casualties, we are always vigilant," said Ma Ruzhuang, the press officer of Beijing airport.

In 1997, after a minor bird-strike accident, Beijing airport set up a special team to find an effective way to scare away the birds.

"No airport in the world has found a panacea to deal with the bird nuisance," Ma said.

Birds are a serious menace to a aircraft during takeoff and landing. They can get sucked into the engines or collide with the fuselage and cause severe damage.

BASH bird aircraft strike hazard is considered one of the most daunting challenges facing airports the world over.

Nearly 200 people had been killed worldwide as a result of wildlife strikes since 1988, Bird Strike Committee USA an organization consisting of members from the aviation, agriculture and defence departments in the country.

"The battles to scare the birds might be endless," said Ma.




Today's Top News
Top China News

China to reform procedures for death penalty




Lenovo wins US nod to buy IBM PC




Corrupt officials seized and punished




People's congress prepared to 'fulfil history'




41 corpses found in Iraq; blast kills four




Chinese firms join Galileo project