41 corpses found in Iraq; blast kills four
(Agencies)
Updated: 2005-03-10 08:23
Iraqi authorities found 41 decomposed bodies — some bullet-riddled, others beheaded — at sites near the Syrian border and south of the capital, and said Wednesday they included women and children who may have been killed because insurgents thought their families were collaborating with U.S. forces.
In Baghdad, a suicide bomber driving a garbage truck loaded with explosives and at least one other gunman shot their way into a parking lot in an attempt to blow up a hotel used by Western contractors. At least four people, including the attackers and a guard, were killed.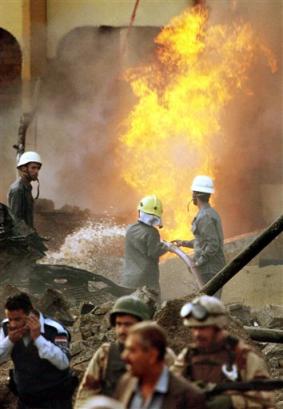 Firemen try to put out flames after a garbage truck exploded at dawn near a hotel used by western contractors in central Baghdad, Iraq Wednesday, March 9, 2005.[AP]

The U.S. Embassy said 30 Americans were among 40 people wounded in the blast. No Americans were killed. In an Internet statement, al-Qaida in Iraq purportedly claimed responsibility for the attack on the Sadeer hotel, calling it the "hotel of the Jews."

While Sunni Arab insurgents have repeatedly targeted Westerners in Iraq, Shiite Muslims, top Iraqi officials and civil servants, even Muslim women are no longer safe.

Decapitated bodies of women have begun turning up in recent weeks, a note with the word "collaborator" usually pinned to their chests. Three women were gunned down Tuesday in one of Baghdad's Shiite neighborhoods for being alleged collaborators. And in the northern city of Kirkuk, a woman identified as Nawal Mohammed, who worked with U.S. forces, was killed in a drive-by shooting, police said.

The decomposed bodies were found Tuesday after reports of their stench reached authorities.

Twenty-six of the dead were discovered in a field near Rumana, a village 12 miles east of the western city of Qaim, near the Syrian border. Each body was riddled with bullets. The dead were found wearing civilian clothes and one was a woman, police Capt. Muzahim al-Karbouli said.

The other site was south of Baghdad in Latifiya, where Iraqi troops found 15 headless bodies in a building at an abandoned army base, Defense Ministry Capt. Sabah Yassin said.

The bodies included 10 men, three women and two children. Their identities, like the others found in western Iraq, were not known, but insurgents may have viewed them or their relatives as collaborators.

Yassin said some of men found dead in Latifiya were thought to have been part of a group of Iraqi soldiers who were kidnapped by insurgents two weeks ago.

The gruesome discoveries were among 58 new killings in Iraq announced Wednesday, including the death of a U.S. soldier in a Baghdad roadside bombing.

Iraq's interim planning minister, Mahdi al-Hafidh, a Shiite, narrowly escaped death Wednesday after gunmen opened fire on his convoy in the capital. Two of his bodyguards were killed and two others were wounded.

"I'm fine, just sorry about the death of the guards, who were still young," he told state-run Al-Iraqiya TV. "It is a part of the crisis that Iraq is living, but we will keep going for the sake of Iraq, to get rid of terrorism and build a democratic country."

Qataa Abdul Nabi, the director general of the Shiite Endowment, was shot to death Tuesday as he drove home — the second high-ranking member of the Shiite charity to be killed in a week.

A car bombing targeted an American checkpoint outside a base in Habaniyah, 50 miles west of Baghdad, and another exploded near U.S. troops close to Abu Ghraib, just west of the capital.

No other details were available, and the U.S. military could not be reached for comment. It was unclear if the dead U.S. soldier was killed in any of the attacks. The U.S. military said only that a soldier was killed and another was wounded by a bomb as they were patrolling around Baghdad.

As of Tuesday, at least 1,509 members of the U.S. military have died since the beginning of the Iraq war in March 2003, according to an Associated Press count. At least 1,149 died as a result of hostile action, according to the Defense Department. The figures include four military civilians. The AP count is five higher than the Defense Department's tally, last updated at 10 a.m. EST Tuesday.

In other violence:

_ Guerrillas struck a police patrol with a roadside bomb in the southern city of Basra, killing two policeman and wounding three, Lt. Col. Karim Al-Zaydi said.

_ Two police officers were killed and two others wounded in clashes with insurgents in the northern city of Mosul.

Police said the attack on the Sadeer hotel began when insurgents wearing police uniforms shot to death a guard at the Agriculture Ministry's gate, allowing the truck to enter a compound the ministry shares with the hotel. Guards fired on the vehicle and it exploded.

The explosion carved a hole in the parking lot that was at least 30 feet wide and more than 10 feet deep. It shattered most windows in the hotel and set cars on fire.

Al-Qaida in Iraq posted an Internet statement addressed to its leader, Jordanian-born terror mastermind Abu Musab al-Zarqawi, claiming it carried out the attack.

It said: "we have fulfilled our vow to take down the Jews and Christians." In an alleged response on the same site, someone purporting to be al-Zarqawi replied, "you have relieved us by killing the enemy of God. God bless you."

Another militant group, the Islamic Army in Iraq, purportedly posted an Internet video showing what it said were two Sudanese hostages abducted in Baghdad. The men identified themselves as Mohammed Hammad and Maher Attaya and said they were drivers for a Turkish company working for U.S. forces. The authenticity of the video could not be verified.




Today's Top News
Top World News

People's congress prepared to 'fulfil history'




Lenovo wins US nod to buy IBM PC




Corrupt officials seized and punished




State banks urged to reform with gov't input




China hints at death penalty reform




Education void expands wealth gap