China to reform procedures for death penalty
(Agencies)
Updated: 2005-03-10 02:24
China hinted at reform of the death penalty on Wednesday in a supreme court report to parliament that also touched issues ranging from corruption to social order in the face of rapid change.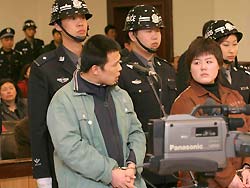 Fu Zhongtao[L], a hit-and-run driver was sentenced to death on March 3, 2005 in Jilin Province. Fu, driving his Lincoln, knocked down a nine-year-old girl but dragged her 2400-meters long to death on February 1 this year. [newsphoto]

"The Supreme People's Court will ... further perfect second-instance judgments for criminal cases and death penalty review procedures," Chief Justice Xiao Yang said on Wednesday.

The top court relinquished the power of final review in death penalty cases during a crime-fighting campaign in the 1980s, but the leadership has been studying how to restore that power to help regulate use of the death sentence.

Officials say the move would simplify an irregular process and some estimates say it could quickly reduce the number of executions by 30 percent.

Lower courts have been criticised for lack of professionalism and consistency in meting out the death penalty, but some have been reluctant to relinquish the power.

An unidentified supreme court official said in the Beijing News last week the court was likely to take back the right to review death penalty sentences next year.

To handle the extra work load, the central government suggested the top court consider setting up a special death penalty review tribunal.

"Currently, the suggestion that has formed is hoping that there can be branches set up in areas around the country, and the branches would be responsible for death penalty review in large administrative regions," the official was quoted as saying.

Delegates to the National People's Congress, or parliament, welcomed the reform that Xiao referred to in his report.

"That way the cases would be handled more rigorously and correctly, said Xu Zhihui, deputy of the northeastern province of Liaoning.

"The high courts have better grasp and the cases would be handled in a more standard way," she said.

Currently, 68 crimes can merit the death penalty in China and most are non-violent. Experts had called for a "kill fewer, kill carefully" policy towards suspects of non-violent crimes, state media said in August.

In a second report to parliament on Wednesday, China's top prosecutor, Jia Chunwang, said more than 800,000 people were arrested for corruption last year.

Tens of thousands had been convicted in cases of embezzlement or dereliction of duty, avoiding potential economic losses of an estimated 4.56 billion yuan ($551 million), Jia said.




Today's Top News
Top China News

China to reform procedures for death penalty




People's congress prepared to 'fulfil history'




Lenovo wins US nod to buy IBM PC




Corrupt officials seized and punished




State banks urged to reform with gov't input




41 corpses found in Iraq; blast kills four