Italy demands justice from US over Iraq death
(Agencies)
Updated: 2005-03-09 09:50
Italy's foreign minister rejected on Tuesday a U.S. account of how its forces killed an Italian intelligence agent in Iraq and urged Washington to punish any soldiers found guilty of wrongdoing in the shooting.
"It is our duty to demand truth and justice," Foreign Minister Gianfranco Fini told parliament.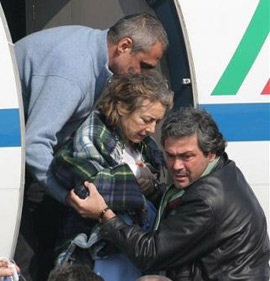 Italian journalist Giuliana Sgrena is helped to disembark from the plane which took her from Baghdad to Rome Saturday, March 5 2005. [Reuters]
Agent Nicola Calipari has been hailed as a hero in Italy after he died shielding a newly freed hostage from U.S. gunfire as they drove to Baghdad airport last Friday.
The killing has strained ties between the United States and Italy, which has been one of President Bush's staunchest allies in Europe over the war in Iraq.
The United States invited Italy on Tuesday to participate in an already-announced military inquiry into the incident, a move immediately welcomed by Prime Minister Silvio Berlusconi. The investigation, which will also review procedures at military checkpoints in Iraq, aims to be finished within 3-4 weeks.
"Together with the Italians, we will get to the bottom of this and get to know all of the facts together. That's what's important now," said State Department spokesman Richard Boucher.
Fini dismissed speculation that U.S. forces deliberately fired on the Italians, but he said an initial U.S. military statement on the shooting, released hours after the attack, did "not coincide" with what Italy believed had happened.
"It was certainly an accident," Fini said.
"But this doesn't mean, in fact it makes it necessary, to demand that events are clarified ... to identify those responsible, and if people are to blame then to request and ensure that the guilty parties are punished," he added.
APOLOGY
The U.S. military has said its soldiers fired on the Italians' car after it approached a checkpoint at speed and failed to heed signals to slow down.
But Fini said that the Italians had been driving slowly and had received no warning. Moreover he said that Italy had made "all necessary contacts" with U.S. authorities to facilitate entry to the airport. He added that immediately after the shooting, U.S. soldiers had apologized profusely to freed hostage Giuliana Sgrena and an unnamed Italian intelligence officer who survived the fire.
The Army general commanding U.S. forces in Iraq, Gen. George Casey, said on Tuesday he had no indication "even on a preliminary basis" that U.S. officials had been advised of the rescue mission beforehand.
Italy deployed 3,000 troops to Iraq following the fall of Baghdad and has made clear it will not withdraw its troops despite Calipari's death. But it fears any hint of a U.S. whitewash over the incident will fuel anti-American sentiment.
In previous U.S. probes into "friendly-fire" deaths, the Pentagon has not publicly acknowledged any culpability on the part of its forces.
Sgrena, an award-winning journalist who was held hostage for a month in Iraq before Calipari masterminded her release, has suggested the Italians were fired at because the United States opposes Rome's practice of negotiating with kidnappers.
The White House has rejected that suggestion.
FATAL MISSION
The Islamic militant group that held Sgrena hostage said in a tape released on Tuesday they had rejected offers of a ransom for her release. Italian newspapers have reported that between $6 million to $8 million was handed over by Italy.
Fini on Tuesday gave a long account of Calipari's fatal mission to Baghdad but made no mention of any ransom.
He said Calipari arrived in Baghdad on Friday afternoon after establishing contact with the kidnappers. He checked in with U.S. authorities at the airport before driving off with an Italian colleague to meet an Iraqi middleman.
The middleman took them to Sgrena, who was seated in the wreckage of a car, dressed in black robes and wearing a mask.
On the drive back to the airport, the Italians left the lights on in the car to help identify them to U.S. checkpoints.
As they neared the airport, the car slowed to about 40 kph (25 mph) because the road was wet and because the driver had to make a sharp turning. Half way around the curve, a searchlight picked out the car and guns opened fire for 10-15 seconds, Fini said.
The intelligence officer who survived the attack was forced to kneel in the road until the soldiers realized who he was.
"Two young Americans approached our officer and, demoralized, repeatedly apologized for what had happened," Fini said.
Today's Top News
Top World News

Peace paramount in anti-secession law




Australia grants visa to 104-year-old Chinese




Russia: Chechen leader Maskhadov killed




Official accountability system to be stricter




Debates to centre upon tax reforms




Special peninsula envoy heads for US