Iraqi official: Saddam may be tried in '05
(Agencies)
Updated: 2005-03-09 08:48
Saddam Hussein could go on trial by the end of this year, Iraq's national security adviser said Tuesday.
"I will be surprised if I do not see Saddam in the box before the end of the year," Mouwafak al-Rubaie told reporters. "I am very much hopeful that Saddam will be in the box around September and October, before the general referendum."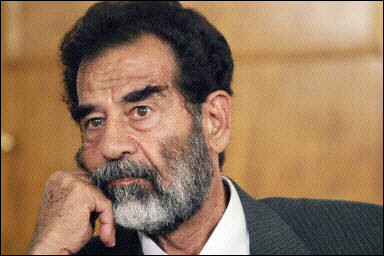 Saddam Hussein listens in a courtroom in Baghdad. [AFP/File]

Saddam was captured north of Baghdad in December 2003 and has been in custody with several of his top henchmen at a U.S.-guarded detention facility near Baghdad's international airport.

Saddam will be tried before the Iraqi Special Tribunal established in late 2003. The tribunal has given no official dates for starting trials.

On Feb. 28, the tribunal announced it had completed preliminary investigations into some of the alleged crimes committed by several of Saddam's top henchmen, and it would process five of the suspects for trial.

Iraq's new assembly, chosen during the landmark Jan. 30 vote, will create a committee to draft a permanent constitution. Iraqis will vote on the proposed constitution in a referendum held by Oct. 15.




Today's Top News
Top World News

Peace paramount in anti-secession law




Australia orders out 104-year-old Chinese




Russia: Chechen leader Maskhadov killed




Official accountability system to be stricter




Debates to centre upon tax reforms




Special peninsula envoy heads for US