Palestinian PM, Israel discuss West Bank pullback
(Agencies)
Updated: 2005-03-09 08:35
Palestinian President Mahmoud Abbas and Israeli Defense Minister Shaul Mofaz failed in talks on Tuesday to set a firm date for the start of an Israeli troop pullback from five West Bank cities.
But they both signaled the start of the redeployment, delayed by a Palestinian suicide bombing on Feb. 25 and key to Middle East peace efforts, could be only days away, pending the outcome of further talks at committee level.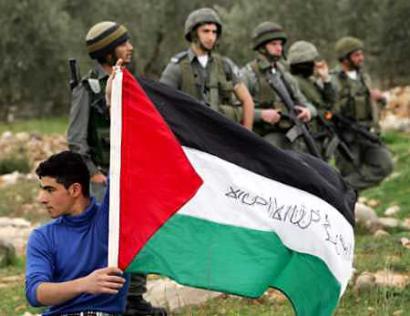 A Palestinian youth holds a Palestine flag in front of Israeli border police during a protest against Israel's controversial security barrier near the West Bank village of Bilin March 8, 2005. Palestinian President Mahmoud Abbas accused Israel of undermining peace efforts by dragging its feet over promises to free prisoners and pull back from West Bank cities. [Reuters]

"In the coming days, we will apparently transfer two more cities after a meeting between military commanders tomorrow. We are talking about Tulkarm and Jericho," Mofaz told a news conference, describing the meeting with Abbas as successful.

Abbas said afterwards: "The committees will begin working tomorrow. We have completed preparations with the Israeli side on the handover of Tulkarm.

"Tomorrow they will work on finalizing preparations for handing over Jericho. They will withdraw from Jericho first."

A senior Palestinian official said differences still remained over the depth of a pullback from the two cities and the military teams would try again to tackle the problem in their discussions.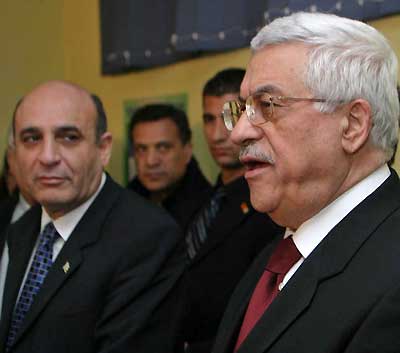 Palestinian President Mahmoud Abbas (R) and Israeli Defense Minister Shaul Mofaz attend a joint press conference after their meeting at Erez crossing, near Gaza Strip March 8, 2005. Abbas and Mofaz ended talks on Tuesday without announcing a firm date for a promised Israeli pullout from West Bank cities. [Reuters]

"There are still problems, the same old problems, on whether the Israelis will remove checkpoints in those areas or not," the official said.

The talks at the Israel-Gaza border were the highest-level negotiations between the two sides since Abbas and Israeli Prime Minister Ariel Sharon declared a ceasefire at a summit in Egypt on Feb. 8.

FOOT-DRAGGING

Abbas went into the meeting after accusing Israel of undermining peace efforts by dragging its feet over promises to hand over Jericho, Tulkarm, Ramallah, Bethlehem and Qalqilya to Palestinian security control.

Mofaz said he reaffirmed in his discussions with Abbas Israel's demand for the new Palestinian leader "to take the right steps to combat terror activities."

Since last month's suicide bombing, which killed five Israelis in Tel Aviv, Israel has stepped up calls for Abbas to crack down on militants rather than try to coax them into halting attacks.

At the news conference at Erez, Abbas, elected on Jan. 9 to replace the late Yasser Arafat, said the Palestinian Authority bega