Australia grants visa to 104-year-old Chinese
(Agencies)
Updated: 2005-03-09 09:58
The Australian Government has granted a permanent visa to the 104-year-old Chinese woman at the centre of an immigration row, Australian Broadcasting Corporation reports.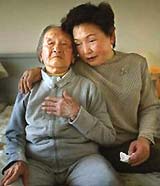 Cui Yu Hu, 104, at home with her adopted daughter Motoko Otani in Melbourne, southern Australia.
The Immigration Minister, Amanda Vanstone, has announced she has used her discretionary powers to allow Chi Yu Hu to stay in Australia, the report said.
Earlier, a special appeal hearing by the Immigration Department refused to overturn a decision to send Cui Yu Hu back to her native Xinjiang Uygur Autonomous Region in Northwest China.
Cui arrived on a 12-month visitor's visa in 1995 to visit her adopted daughter Motoko Otani who lives in the southern city of Melbourne.
But when she wanted to leave no airline would take the risk of transporting the frail and elderly woman back to Harbin in China's northeast.
When her case came to government attention, after she attempted to access free medical care, Hu had already been living in the country illegally for some time.
Hu was given temporary bridging visas until her case could be resolved.
Amanda Vanstone said Tuesday there was never any intention to send the woman home.
"She was discovered in 2001, having been here for five years unlawfully, under the radar," Vanstone said. "(But) at no time has Mrs. Hu faced deportation."
"You don't often have people unlawfully here at the age of 100 but that's what happened."
Cui has outlived all her family and friends in China. Her only surviving relative is the daughter she adopted during the Japanese occupation more than 60 years ago.
Motoko Otani, who is married, was an three-year-old orphan when Cui took her into her care.
Hu's case, which prompted Chinese diplomats here to urge the Australian government to show compassion, was welcomed Wednesday by parliamentarians.
"I think you'd have to say that's a sensible decision and one that's at last showing some compassion towards the woman," Australian Democrats leader Lyn Allison said.
"It's incomprehensible that we would send this 104-year-old woman back to a place that she barely knows, and as I understand it there are some doubts that the airline would carry her in any case so it makes no sense."
The case has drawn attention to the conservative government's tough stance on immigration, which includes the mandatory, unlimited detention of illegal immigrants, many of whom spend years in remote detention camps awaiting resolution of their cases.
Today's Top News
Top China News

Peace paramount in anti-secession law




Australia grants visa to 104-year-old Chinese




Russia: Chechen leader Maskhadov killed




Official accountability system to be stricter




Debates to centre upon tax reforms




Special peninsula envoy heads for US