Peace paramount in anti-secession law
By Xing Zhigang (China Daily)
Updated: 2005-03-09 02:18
Beijing will use non-peaceful means to stop Taiwan's secession from China only as a last resort, according to Wang Zhaoguo, vice-chairman of the National People's Congress (NPC) Standing Committee yesterday.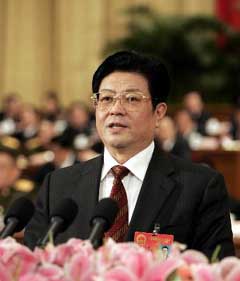 Wang Zhaoguo, vice-chairman of the NPC Standing Committee, explains the draft Anti-Secession Law to the deputies of the third session of the 10th National People's Congress in the Great Hall of the People March 8, 2005. [Xinhua]

"Using non-peaceful means to stop secession in defence of our sovereignty and territorial integrity would be our last resort if and when all our efforts for a peaceful reunification prove futile," said Wang, during an address at the third session of the NPC, China's top legislature.

He was explaining the draft anti-secession law to nearly 3,000 congress deputies. He speech drew long applause.

It is the first time China's top legislature has unveiled details of the proposed law, which is scheduled for a final vote on March 14. The draft is considered short and to the point, reportedly containing less than 1,000 Chinese characters.

Wang said the draft provides for the deployment of non-peaceful means and other necessary measures only:

Should "Taiwan independence" forces act to secede from China;

Should major incidents entailing Taiwan's secession from China occur;

Should the possibility of a peaceful reunification be completely exhausted.

The draft also hands power to the State Council, China's cabinet, and the Central Military Commission to decide on and execute "non-peaceful means and other necessary measures."

It also stresses any decision be promptly reported to the Standing Committee of the NPC.

Wang told national lawmakers any use of force would only target "Taiwan independence" secessionist forces rather than Taiwan compatriots.

The draft says "the State shall exert its utmost to protect the lives, property and other legitimate rights and interests of Taiwan civilians and foreign nationals to minimize losses" in the event of using force.

"At the same time, the State shall protect the rights and interests of Taiwan compatriots in other parts of China in accordance with law," Wang said. "The formulation of the law is both necessary and timely as the Taiwan authorities have intensified their 'Taiwan independence' activities," he added.

The pro-independence Democratic Progressive Party (DPP) administration led by Taiwan leader Chen Shui-bian has been pursuing de jure independence for the island through a "constitutional re-engineering project."

Chen has repeatedly pledged to draft a new "constitution" through referendum for Taiwan in 2006 and to bring any decision into force in 2008.

"Given the grave threat to China's sovereignty and territorial integrity, the mainland would be entitled to use non-peaceful means to resolutely oppose and check secessionist activities," Wang said.

"We have never forsworn the use of force. No sovereign state can tolerate secession and every sovereign state has the right to use necessary means to defend its sovereignty and territorial integrity," he added.

The Taiwan question is one that is left over from China's civil war of the late 1940s and resolving the issue and achieving China's complete reunification is the country's internal affair, he said.

"On this question, we will not submit to any interference by outside forces," he told the top legislature.

Despite his warning of the worst-case scenario, Wang stressed that China will refrain from using non-peaceful means.

"No one is more desirous of achieving a peaceful reunification than we are," he said.

"So long as there is a glimmer of hope for peaceful reunification, we will exert our utmost to make it happen rather than give up," he added.

Wang said the law provides concrete measures for developing cross-Straits relations and the resumption of cross-Straits consultations and negotiations.

Li Jiaquan, a senior researcher from the Institute of Taiwan Studies under the Chinese Academy of Social Sciences, said the legislation fully demonstrates China's "sincerity to strive for cross-Straits peace."

He told China Daily: "China needs a peaceful environment more than any other country to concentrate on developing its economy."




Today's Top News
Top China News

Peace paramount in anti-secession law




Russia: Chechen leader Maskhadov killed




Official accountability system to be stricter




Debates to centre upon tax reforms




US, EU divided on high-tech issues




Australia orders out 104-year-old Chinese