Official accountability system to be stricter
By Hu Cong (China Daily)
Updated: 2005-03-09 02:18
Premier Wen Jiabao made an encouraging promise in his work report, vowing greater official accountability, National People's Congress (NPC) deputies said.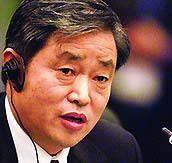 Ma Fucai, president of the State-owned China National Petroleum Corporation, resigned after a gas well run by his company exploded and killed 243 people.

But building a reasonable accountability system that tallies with the law will be a very difficult task, according to deputies and experts.

"The accountability system embodies a down-to-earth approach to rein in the government's performance," said deputy Xiong Guanglin, who is also mayor of Bazhong in Southwest China's Sichuan Province.

The concept of accountability took shape in 2003, when the minister of health and mayor of Beijing were sacked for negligence in relation to the spread of SARS (severe acute respiratory syndrome).

Later that year, Ma Fucai, president of the State-owned China National Petroleum Corporation, resigned after a gas well run by his company exploded and killed 243 people. The latest high-profile case occurred last month, when a vice-governor in the northeastern province of Liaoning was sacked over a local coal mine blast that killed 214, the worst mine disaster in years.

"But a mature accountability system is not simply about firing officials," said NPC deputy Yang Caishou.

"One thing must be clarified that the government is an entity of limited liability and should not be responsible for everything," added Yang, who is also mayor of Hechi, a city in Guangxi Zhuang Autonomous Region.

He said in some cases citizens tend to count on the government for things that are beyond its responsibility, such as mediating disputes with employers. These cases may also damage officials' careers because of their wide social repercussions.

"To have a reasonable accountability system we firstly need to define the scope of the government's responsibility and hold officials accountable within this scope," said Yang.

In 2002 his city introduced accountability policies that use detailed criteria to evaluate local officials' performance in economic promotion and social administration.

Several city and county officials were removed from office for accidents, according to Yang.

"In many cases officials are held accountable because of major accidents that have very bad social repercussions, but few cases are about a specific administrative activity that violates citizens' interests but is not known by many," said Mo Yuchuan, a law professor at the Renmin University of China.

Every year, citizens file thousands of complaints, asking government departments to review certain administrative activities that affect their interests or even asking the courts to step in. In many cases these activities must be changed or revoked, said Mo.

"The law has very clear rules about right or wrong in tackling disputable administrative activities," he said. It takes time to put in place a system that evaluates officials' performance "in a scientific way," said Mo.

But there will be some progress soon as a law is going to be made with clear norms of behaviour for civil servants, he noted.

The NPC Standing Committee started reviewing a proposed Law on Civil Servants in December, which requires civil servants in leading positions to "take the blame and quit the leadership" if their faults cause "major losses or ill social repercussions," or if they have executive responsibility for major accidents.

Punishable activities also include fraud, gambling or superstition.




Today's Top News
Top China News

Peace paramount in anti-secession law




Official accountability system to be stricter




Debates to centre upon tax reforms




Russia: Chechen leader Maskhadov killed




US, EU divided on high-tech issues




Special peninsula envoy heads for US