Russia: Chechen leader Maskhadov killed
(Agencies)
Updated: 2005-03-09 01:43
MOSCOW - Chechen rebel leader Aslan Maskhadov has been killed by Russian troops fighting to quell a long rebellion in the mainly Muslim Caucasus region, the Russian army announced Tuesday.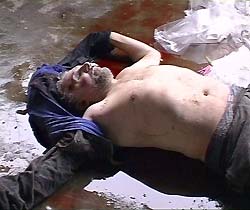 A still image taken from Russian NTV television channel shows the body claimed to be that of Chechen rebel leader Aslan Maskhadov outside Grozny, March 8, 2005. [Reuters]

The death of Maskhadov, 53, would boost Russian President Vladimir Putin, who built his power largely on a tough line against the Chechen rebels. The armed campaign which Maskhadov led had brought bombings to the very heart of Russia.

Russian television showed what it said was Maskhadov lying, bare-chested on his back in a pool of blood, with his arms spread out on either side. There was what appeared to be a bullet mark in his left cheek.

"A special operation was carried out by us in the village of Tolstoy-Yurt as a result of which the international terrorist and leader of the rebel group Aslan Maskhadov was killed," FSB Security Service chief Nikolai Patrushev told President Vladimir Putin.

Tolstoy-Yurt is 20 km (12 miles) north of Grozny.

Four close comrades of Maskhadov had been detained, Patrushev was shown on television telling Putin. He added that there had been no casualties among Russian security forces.

Putin asked Patrushev to double-check the report of Maskhadov's death.

Maskhadov's envoy in London, Akhmed Zakayev, said he had no hard information but he thought the reports were true.

Moscow blames Maskhadov, who has a $10 million reward on his head, for a string of deadly operations in Russia, including an attack on a Moscow theater, a bombing near the Kremlin and an action against a school in the south Russian town of Beslan.

At least 326 hostages -- half of them children -- died at the school in Beslan last year.

INTERNATIONAL LINKS

Moscow also links Maskhadov, and field commander Shamil Basayev, to groups that conducted attacks such as the Sept. 11, 2001, attacks on the United States.

Recently Maskhadov had called for talks with Moscow on Chechen demands for independence, but the Kremlin insists it will not negotiate with terrorists.

Some critics of Moscow's policies in Chechnya saw Maskhadov as more moderate than Basayev and a man with whom the Kremlin could negotiate.

Russian leaders, fearing a breakaway by Chechnya could trigger secession moves by other regions in the sprawling federation, have fought two wars in Chechnya.

Tens of thousands were killed on both sides in the first conflict from 1994-96. Putin sent troops back into the territory in late 1999 to cement his image as a strong leader ahead of his election as president in 2000. The territory suffered widespread devastation and thousands more were killed.

Russia has suffered a series of humiliating setbacks in its bid to control Chechnya, including last year's assassination of the Moscow-backed president of the region in a bomb attack.

In 1996, Russian special forces killed the first post-Soviet rebel leader Dzhokhar Dudayev.

Chechen resentments are rooted in dictator Josef Stalin's deportation of the entire ethnic group in 1944 to Soviet Central Asia. He accused them of collaborating German invaders.

Many thousands died in the transport.




Today's Top News
Top World News

Draft Anti-Secession Law explained to NPC deputies




Top legislature accepts Jiang's resignation




Russia: Chechen leader Maskhadov killed




Shougang may halt production for Olympics




Listings of two big State banks imminent




Experts split over gambling law proposal