Saudis tout campaign to combat terrorism
(Agencies)
Updated: 2005-03-08 09:09
Saudi Arabia touted its anti-terrorism efforts Monday, saying it has arrested 700 terrorist suspects and started some of the strictest controls in the world against terror financing.
The statements came in a news conference laying out the kingdom's new campaign of billboards, television spots and school programs aimed at combating Islamic extremism in Saudi society.
"The bottom line is that no Saudi citizen will be able to escape the clear message that intolerance, violence and extremism are not part of our Islamic faith or Saudi culture or traditions," said Adel al-Jubeir, a foreign affairs adviser to Crown Prince Abdullah bin Abdulaziz.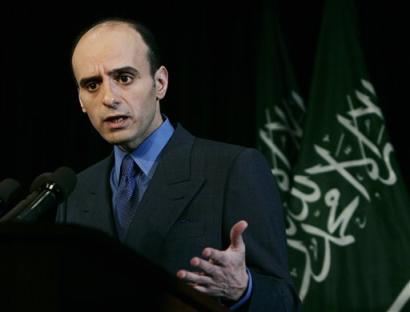 Adel Al-Jubeir, foreign affairs advisor to the Saudi Crown Prince Abdullah bin Abdulaziz, speaks to reporters during a news conference at the Saudi embassy, March 7, 2005, in Washington. Al-Jubeir announced a national public awareness and education campaign in Saudi Arabia as part of its strategy to combat extremism. [AP]

The kingdom has been blamed by some in the West for exporting terrorism and failing to openly disclose the steps it takes internally to uproot the al-Qaida terrorist network's structure there.

"We are using different forms of communication to send a clear and powerful message, and we are taking serious actions to undermine the strength of those that try to misguide our young people," al-Jubeir said.

The campaign begun several weeks ago is part of a larger effort to try to eradicate the roots of terrorism, he told reporters at the Saudi Arabian Embassy. Among the 700 terror suspects detained so far are 18 of the 26 most-wanted in Saudi Arabia, al-Jubeir said.

He said Saudi Arabia has implemented recommendations on terror financing and money laundering made by a task for of the G-8 economic group.

"Perhaps most importantly, Saudi Arabia has taken steps to combat the mind-set that instills and justifies acts of terror, hatred and violence," al-Jubeir said.

"We will not allow deviants to corrupt our faith," he said. "We are revitalizing our educational system to instill the true values of our faith: compassion, moderation, love and peace, while improving critical thinking. In our mosques, imams who have preached hatred and violence have been taken to task."

Saudi Arabia's image was battered within the United States after the terrorist attacks on Sept. 11, 2001, when 15 of the 19 airplane hijackers were Saudi nationals.

For nearly two years, Saudi Arabia has been waging a crackdown to root out terrorism after militants attacked three residential compounds in Riyadh in May 2003.

A report released early this year by the Washington-based Center for Strategic and International Studies said despite the successes and decreasing support for al-Qaida in Saudi Arabia, "the terror threat is unlikely to disappear for years to come."




Today's Top News
Top World News

Listings of two big State banks imminent




Experts split over gambling law proposal




NPC to vote on Jiang's resignation request




Time needed for Chinese women into space




Super-bridge project given green light




Qinghai-Tibet railway project steams ahead