Palestinians to control West Bank town
(Agencies)
Updated: 2005-03-08 09:03
Marching in formation and jumping through flaming hoops, Palestinian forces prepared Monday to assume control in Tulkarem, the first of five West Bank towns to be handed over by Israel as part of a truce to end four years of bloodshed.
The handover, which could take place as soon as Tuesday, is an important test for Palestinian leader Mahmoud Abbas. A strong performance by Palestinian police could lead to further progress. But failure to rein in militants could freeze the rapprochement.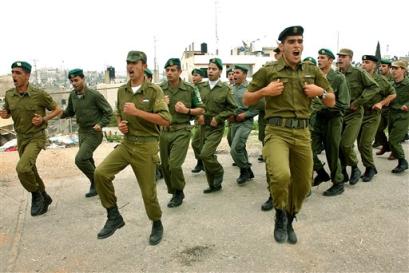 Palestinian police officers march during a training session in the northern West Bank town of Tulkarem Monday March 7, 2005. Despite an attack by Palestinian militants that wounded two Israeli border police in the southern West Bank town of Hebron Monday, both sides said progress has been made on transferring West Bank cities to Palestinian security control, after weeks of deadlock over whether Israel would remove army roadblocks outside the towns as part of such a pullback. [AP]

In a setback for peace efforts, Palestinian militants wounded two Israeli border policemen, one seriously, in a shooting attack on a military post in the West Bank city of Hebron. The shooting took place near the Tomb of the Patriarchs, a shrine revered by both Muslims and Jews.

Hebron has been a flashpoint of violence between Israelis and Palestinians. A small community of Israeli settlers lives in the city center under heavy guard.

Israeli Prime Minister Ariel Sharon condemned the shooting as an attack on Jews' freedom of religion.

"This attack again underscores Israel's unequivocal stand that in order to end terrorism, we must fight a determined battle against the terrorists, those who dispatch them and those who finance them," Sharon told lawmakers from his Likud Party. "Jews will continue to pray at the Tomb of the Patriarchs in Hebron and to live there."

Since Sharon and Abbas declared an end to violence at a Feb. 8 summit, there has been a drop in fighting. But sporadic violence has persisted.

In the most serious attack, a Palestinian suicide bomber killed five Israelis outside a Tel Aviv nightclub Feb. 25. The assailant, dispatched by the Islamic Jihad group, came from a village near Tulkarem. That bombing prompted Israel to freeze the planned security handover in the West Bank.

Israeli and Palestinian military officials resumed negotiations late Sunday, and both sides said they expected a deal over Tulkarem in the near future.

Abbas and Israeli Defense Minister Shaul Mofaz were to meet Tuesday to wrap up the deal, Israeli officials said.

With negotiations in the final stages, Palestinian forces in Tulkarem stepped up preparations for the handover. Dozens of troops in military fatigues marched in formation and conducted calisthenic drills and martial-arts exercises at an abandoned dirt lot.

At one point, the soldiers formed a human pyramid and cried out "Jerusalem is ours!" Later, the soldiers sprinted and jumped headfirst through a smoldering hoop lined with a flaming cloth.

Elsewhere in town, camouflage troops congregated on a street corner, while blue-uniformed police patrolled the streets and directed traffic.

Tulkarem Gov. Izzedine al-Sharif said 2,500 Palestinian police are to be posted in the town and the main goals would be "to maintain security and law, to prevent any attacks against Israeli targets." He said the police are ready for their mission. "We are preparing many measures," he said, "like setting up permanent and mobile checkpoints."

Over the weekend, Abbas said his forces could do nothing to restore order and rein in militants until Israel allows Palestinian police to deploy in West Bank towns.

Giora Eiland, Sharon's national security adviser, told The Associated Press that Israel is concerned that Palestinian militant groups have taken advantage of the recent lull in fighting to regroup.

He said Israel has "reservations" about the effectiveness of the Palestinian exercises but added that "the training, of course, is up to them."

Other Israeli security officials said the presence of even poorly trained Palestinian forces is preferable to the virtual power vacuum currently in the area.

Tulkarem is on the 1949 cease-fire line that separates Israel from the West Bank at Israel's narrowest point, about 10 miles from the Israeli city of Netanya on the Mediterranean Sea. Netanya was the target of many suicide bombers before Israel built the section of its separation barrier that now blocks Tulkarem from three sides.

Much of the negotiations have focused on whether Israel would remove army roadblocks. The Palestinians have insisted on the removal of roadblocks. Israel insists they are necessary to stop attackers.

Al-Sharif said Israel had agreed to remove a main checkpoint on the road linking Tulkarem to Nablus. Israel will retain a roadblock south of the town, he said.

Also Monday, Jordan's King Abdullah II told Channel Two TV he would work to update a 2002 Arab peace offer to take into account Israel's concerns. The plan offered Israel recognition from the Arab world as part of a peace deal with the Palestinians that would include withdrawal from all of the West Bank, Gaza Strip, east Jerusalem and Golan Heights, with an agreed solution for Palestinian refugees. Israel objected to the concept of a total withdrawal and cast doubts on the sincerity of the offer.




Today's Top News
Top World News

Listings of two big State banks imminent




Experts split over gambling law proposal




NPC to vote on Jiang's resignation request




Time needed for Chinese women into space




Super-bridge project given green light




Qinghai-Tibet railway project steams ahead