U.S. shootings strain ties with Iraq allies
(Agencies)
Updated: 2005-03-08 08:41
U.S. forces in Iraq faced new strains with allies on Monday when Bulgaria said they had probably shot dead one of its soldiers after angering Rome by killing an Italian secret agent who rescued a hostage.
The shootings confirmed what for many Iraqis is a daily reality -- that U.S. forces are too quick to open fire and often kill innocent civilians in their efforts to crack down on insurgents, who killed at least 23 people in fresh attacks.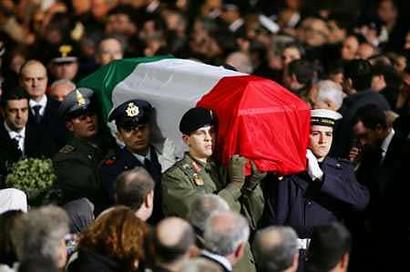 The coffin of slain Italian intelligence officer Nicola Calipari is carried by members of Italy's armed forces into Rome's Saint Maria degli Angeli church during a state funeral March 7, 2005. Italy paid homage to the intelligence officer killed in Iraq by U.S. forces, giving him a full state funeral that was tinged with anger over how he was gunned down while protecting a freed Italian hostage. [Reuters]

The U.S. military says it does all it can to minimise the risk of Iraqis and foreign civilians being killed.

The Bulgarian soldier was killed in southern Iraq on Friday, around the same time that U.S. forces in Baghdad opened fire on a vehicle taking kidnapped Italian journalist Giuliana Sgrena to the airport shortly after her captors freed her.

Sgrena was wounded in the shoulder and secret agent Nicola Calipari, who played a key role in her release, was killed. Italy laid on an state funeral in Rome on Monday for Calipari.

Bulgarian Defense Minister Nikolai Svinarov said an investigation into the death of the Bulgarian soldier showed he had probably been accidentally killed by American troops.

"Someone started shooting at our patrol from the west, and in the same direction, 150 meters (yards) away, there was a unit from the U.S. army," he told a news conference.

"The result gives us enough grounds to believe the death of rifleman Gurdi Gurdev was caused by friendly fire."

Svinarov said the Bulgarian army's chief of staff had written to General Richard Myers, chairman of the U.S. joint chiefs of staff, asking for an investigation.

The U.S. military had no immediate comment.

ANGER IN ITALY

But the White House rejected Sgrena's suggestion that she was targeted by U.S. troops on the road to Baghdad airport.

"I think it's absurd to make any such suggestion that our men and women in uniform deliberately targeted innocent civilians. That's just absurd," said spokesman Scott McClellan.

He said the road to the airport "is one of the most dangerous roads in Iraq," plagued by suicide bombings and other attacks, and that forces often had to make "split-second decisions to protect their own security."

He said President Bush considered Italian Prime Minister Silvio Berlusconi a good friend and had assured him there would be a full investigation into the incident.

Earlier the U.S. military says the Italian vehicle was traveling at high speed and ignored instructions to stop. Sgrena disputed that account, saying they were traveling at a moderate speed.

Although the governments of Italy and Bulgaria supported the war in Iraq, a large proportion of their people opposed it. Some 75 percent of Bulgarians disagree with U.S.-led military operations in Iraq, according to opinion polls.

SUICIDE ATTACKS

Iraq's government, yet to be formed, faces an uphill battle to rein in violence. On Monday, Deputy President Rowsch Shways said talks were proceeding on how to distribute the top positions between the different parties.

The National Assembly is due to meet on March 16.

In Balad, north of Baghdad, a suicide bomber blew up his car outside an army officer's house, killing at least 12 people, hospital officials and police said.

In the nearby town of Baquba, insurgents attacked soldiers and police with a suicide bomb, mortars and land mines, killing at least 10 people.

Al Qaeda's wing in Iraq, led by Jordanian militant Abu Musab al-Zarqawi, claimed responsibility for both attacks.

"The mujahideen ambushed a unit of the apostate guards in Baquba ... and a brave lion carried out an attack on the riffraff and turned them into scattered fragments," Al Qaeda Organization for Holy War in Iraq said in an Internet statement.

Police in Baquba, a mixed Sunni and Shi'ite town 65 km (40 miles) northeast of Baghdad, said the attack began when five Iraqi soldiers were killed in an ambush. A suicide car bomb then hit police heading to reinforce the area, killing two. Three people were killed by roadside bombs.

In Baghdad, gunmen shot dead a policeman, police said.

In the northern city of Mosul, an Iraqi woman who had been a candidate in Jan. 30 elections for the Shi'ite alliance that topped the poll was shot dead on Sunday, alliance officials said. Hana Muhamasji, a university professor, was one of the few Sunni candidates on the alliance list.




Today's Top News
Top World News

Listings of two big State banks imminent




Experts split over gambling law proposal




Time needed for Chinese women into space




Super-bridge project given green light




Qinghai-Tibet railway project steams ahead




Concerns deepen over housing boom