Experts split over gambling law proposal
By Zhao Huanxin (China Daily)
Updated: 2005-03-08 01:44
Lawmakers and enforcers are divided over a proposed law to ban gambling.
The division follows a motion presented to the National People's Congress (NPC) the country's top legislature, calling for a stand-alone bill to prohibit gambling activities.
The proposal was submitted by legislator Luo Yifeng, who called for government and company chiefs to be made special targets and heavier penalties be introduced in any future crackdown.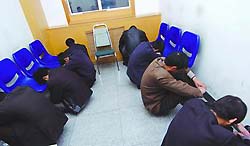 Gamblers are kept in custody in a police office in Beijing on Nov. 11, 2004. [file]

"A new, special law banning gambling, with heavier penalties meted out to violators, is a lasting solution to prohibit gambling," Luo claimed yesterday.

But China's gambling-busters and legal experts, agreeing on harder strikes, said they preferred amending or changing judicial interpretations of current statutes to creating new anti-gambling legislation.

Current Criminal Law of the country, enacted in 1979 and amended since, sets a maximum punishment for gambling of three years in jail.

The penalties are seen by some as too lenient when considering that many cases usually involve millions of yuan and often corrupt social morals, Luo said.

"My proposed law will explicitly ban any government officials and State firm executives from gambling," said Luo.

"It will also set up parameters to differentiate normal entertainment activities from gambling activities," he added.

Casinos and other gambling activities have caused a chain of social problems, and participation of officials and State firm executives has increased corruption and led to a loss of State assets, Luo said.

What was of greater importance was to enable the law to have more of a "deterrent effect," Luo said.

Debates on an anti-gambling strategy have caused widespread attention during the current week-long NPC session.

The anti-gambling campaign office under the Ministry of Public Security yesterday said the relevant clause of China's criminal code paled when applied to curb the situation in China.

"But considering China's current conditions, time is not ripe yet for making a special anti-gambling law," the office said in a statement.

Instead, "it is better to revise the existing Criminal Law to fix the problem in a more timely fashion," it said.

The statement singled out two points many law-enforcers believed will facilitate the crackdown on gambling.

The first is about the measurement of penalty. The Criminal Law, if revised, could hand out more severe punishments to serious offenders instead of a three-year term and fines, it said.

The second is to have the Criminal Law include new forms of gambling, such as gambling on the Internet and or gambling outside the Chinese mainland.

Guo Bing, a division director of the Department of Public Affairs in Yunnan Province in Southwest China, said it is important to revise the current law as soon as possible to "increase the cost of those attempting to commit a gambling crime."

The anti-gambling mission laun-ched by the provincial police has forced 78 casinos in the neighboring countries out of business since late December, according to Guo. "Compared with making a special law to prohibit gambling, I think it is more viable to improve the current statute," he said.

Chu Huaizhi, a senior law expert at the Peking University, yesterday said he participated in a workshop sponsored last week by the Supreme People's Court and Supreme People's Procuratorate, which sought to make some judicial interpretations on Article 303 of China's Criminal Law.

"The explanations, to be published soon, will define more clearly gambling activities," .

Chu said, adding the country need not rush to making a specific law to ban gambling, which he alleged is "impossible to root out completely."

The country passed a legally binding "Decision on Strictly Prohibiting Prostitution and Whorehouse Visiting" in 1991. "It helped curb the vice, but the phenomenon still exists in some places," Chu said. "Likewise, gambling could not possibly be prohibited totally. However, it can be curbed effectively," he added.

"We can always improve our monitoring and control measures to stop the activities at the very root sources through use of high technology and more efficient border checks," he said.

(China Daily 03/08/2005 page1)




Today's Top News
Top China News

Listings of two big State banks imminent




Experts split over gambling law proposal




Courageous women "hold up half the sky"




Time needed for Chinese women going into space




super-bridge project given green light




Qinghai-Tibet railway project steams ahead