Courageous women "hold up half the sky"
By Zhou Liming (China Daily)
Updated: 2005-03-08 01:44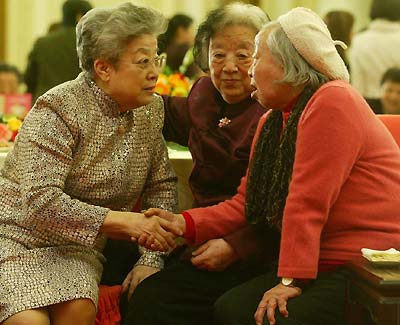 Vice-Premier Wu Yi (left) in close discussion with Huang Ganying (right), 85, and Zhang Jiexun, 83, at a ceremony to mark today's International Women's Day in the Great Hall of the People in Beijing yesterday. Both Huang and Zhang are former vice-chairwomen of the All-China Women's Federation. [China Daily]
How do women from around the world view their "Chinese sisters"?
That is the question China Daily put to overseas guests attending a reception at the Great Hall of the People on the eve of the 95th International Women's Day.
Mina Chertie, the wife of the Moroccan ambassador, said Chinese women "work hard, are innovative and present themselves very well."
"Chinese women are good representatives of women everywhere, and we should follow their example," she said.
"Chinese women are friendly, helpful and active. They are better than the men!" joked Sangeeta Basnyat and Sabita Shrestha, whose husbands work in the Napalese Embassy in Beijing. They, like may expats, find close friendship with their Chinese brethren.

Today's Top News
Top China News

Listings of two big State banks imminent




Experts split over gambling law proposal




Time needed for Chinese women into space




super-bridge project given green light




Qinghai-Tibet railway project steams ahead




Concerns deepen over housing boom