Concerns deepen over housing boom
By Jiang Zhuqing (China Daily)
Updated: 2005-03-08 01:44
Legislators and national advisers have called for a cooling in the overheated property market.
Rapid rising house prices are an increasing worry and CPPCC members and NPC deputies have urged the government to strengthen its macro-control measures.
They have also called for the building of cheaper homes to fill the demand in the renting sector.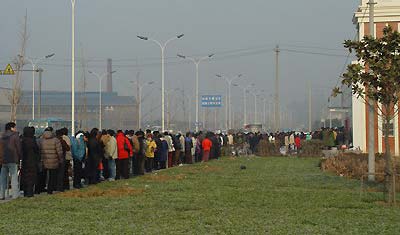 Citizens in Wuxi, East China's Jiangsu Province, queue to order apartments of a new porperty in December, 2004.

"House prices are rocketing too rapidly and the majority of the citizens in many cities cannot afford to keep up," said adviser Song Linfei at a plenary meeting of the 10th National Committee of the Chinese People's Political Consultative Conference (CPPCC) yesterday.

"House prices in Beijing and Shanghai are unbearably high," argued CPPCC member and economist Li Yining. "But I don't think there are bubbles existing in the property sector as a whole."

The ratio between housing prices and people's income in many cities surpassed 10:1 two to three times higher than that of developed countries, Song said.

"Mountains of social problems and turbulence could be triggered if more and more ordinary people cannot afford homes," he warned.

"It is crucial to adopt pragmatic measures that ensure people with moderate income can purchase homes," said Song.

Li Wuwei, deputy to the National People's Congress (NPC), said: "The only solution for governments to deal with the surge in house prices is to provide more affordable and rented apartments." Shanghai plans to build 10 million square metres of affordable and rentable houses this year.

"For a country whose GDP growth reached 9-10 per cent last year, it is natural for its real estate prices to surge 7-8 per cent annually," Li noted.

Besides the construction of economic and renting houses, he said the government should adjust the amount of land for available for property, which is key to the price of real estate.

"To ease the burden of banking loans, the terms of budget plans for economically affordable homes should be prolonged," Li said.

"Moreover, tougher punishment should be handed out to those who manipulate the prices of buildings," added Li. He said this would also help curb the panic caused by surging housing prices among the public.

Song also suggested the government speed up the founding of a supervision system on land usage - and restrict the accounting system to limit the profits of property developers.

(China Daily 03/08/2005 page2)




Today's Top News
Top China News

Draft Anti-Secession Law explained to NPC deputies




Top legislature accepts Jiang's resignation




Listings of two big State banks imminent




Experts split over gambling law proposal




Time needed for Chinese women into space




Super-bridge project given green light