Time needed for Chinese women into space
(Agencies)
Updated: 2005-03-08 00:54
China presently does not have women astronauts qualified for being sent into orbit and the dream of Chinese women touring the outer space is yet to come true, said an expert Monday here while attending the session of the top advisory body.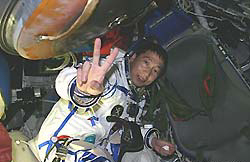 Chinese astronaut waves inside the capsule of Shenzhou-V.

Qi Faren, designer-in-chief of the country's manned spacecraft, made the above-mentioned remarks during an exclusive interview with Xinhua.

Astronaut candidates are usually required to have flied fighter planes for some 700 hours.

"Although China has many women aviators now, none of them meets the minimum requirement," said Qi.

China is now screening astronauts for the second manned space tour and the final squad will not be set until the last minute with varied factors being taken into consideration, said the spacecraft expert in response to whether China's first man in space Yang Liwei will make a revisit.

Astronauts are currently conducting simulative training in the Shenzhou-6 spacecraft, which has been assembled. The likely 5-day space mission will probably be scheduled in October this year, according to Qi.

Chinese astronaut Yang Liwei landed safely on earth on Oct. 16, 2003 aboard the Shenzhou-5 after orbiting the Earth 14 times on the 21 hour mission, making China the third country after Russia and the United States able to put people in space.




Today's Top News
Top China News

Listings of two big State banks imminent




Experts split over gambling law proposal




NPC to vote on Jiang's resignation request




Time needed for Chinese women into space




Super-bridge project given green light




Qinghai-Tibet railway project steams ahead