Clinton sleeps on floor, elder Bush gets bed
(Agencies)
Updated: 2005-03-07 11:57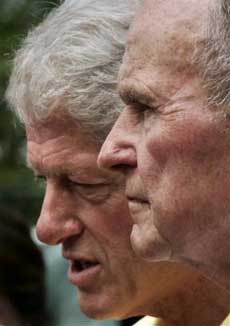 Former U.S. presidents Bill Clinton, left, and George H.W. Bush meet the media while inspecting rebuilding efforts for displaced residents from the December tsunami in Weligama, Sri Lanka Monday, Feb. 21, 2005. [AP]

On their tour of tsunami damage in Southeast Asia, former President Bill Clinton once allowed his predecessor, former President George H.W. Bush, to sleep on the plane's only bed while he stretched out on the floor.

The government plane in which the presidents toured the disaster area had one large bedroom and another room with tables and seats, according to an interview with Bush in this week's Newsweek.

Bush, 80, said Clinton offered ahead of time to give the older former president the bedroom so he could lie flat and avoid paining his body. Clinton, 58, decided to play cards in the other room that night.

The next morning, Bush said he peeked in and saw Clinton sound asleep on the plane's floor.

"We could have switched places, each getting half a night on the bed, but he deferred to me. That was a very courteous thing, very thoughtful, and that meant a great deal to me," Bush said.

Bush said he and Clinton are not close, but have been compatible on the tour, partly because Clinton respects his age.

The March 14 issue of Newsweek hits newsstands Monday.




Today's Top News
Top World News

US-Japan security alliance should not include Taiwan




Market to have bigger say in yuan rate




Grain self-sufficiency still key for nation




Leading group to oversee energy sector




Heinz recalls its dye-fouled products




Italy rejects US version of Iraq shooting