Quality actress Maggie Cheung sued over ad deal
(eastday.com)
Updated: 2005-03-07 09:07
A local garment manufacturer is suing Maggie Cheung for allegedly breaching an advertising contract, while the actress has filed her own suit saying the company used her image in ads without her permission.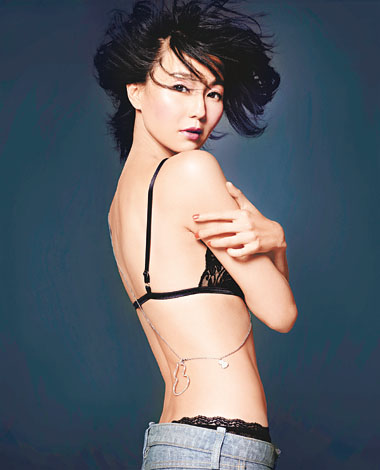 Internationally acclaimed HK actress Maggie Cheung is seen in a promotional photo for a jewelry brand where her present regular boyfriend holds shares. [sohu]


Shanghai Bosideng Enterprise Development Co Ltd filed suit with the Shanghai No. 2 Intermediate People's Court claiming Maggie Cheung and the Hong Kong agency that represents her, Jet Tone Limited, didn't live up to a contract they signed on August 9, 2004.

The company is demanding 3.95 million Hong Kong dollars (US$506,390) and an additional HK$750,000 from Jet Tone.

Bosideng said in the lawsuit that it signed the advertising deal with Jet Tone on August 9 last year. The agreement called for Cheung to perform in ads for the company.

Bosideng then made an initial payment of nearly 2 million yuan to Jet Tone and provided costumes for the ads.

But Jet Tone didn't provide any pictures or ad layouts to the company, as it was supposed to do according to the contract, Bosideng claims.

That forced the company to drop plans to shoot the ad. The company also says Cheung skipped a news conference she was supposed to attend according to the contract.

"The plaintiff has spent a large sum of money in preparation for the ad production. The failure to make the ad in time caused a decrease in sales of our products and hurt the firm's reputation because we had announced the ad plan beforehand," Bosideng said in its lawsuit.

Cheung later filed her own lawsuit against Bosideng with the Shanghai No. 1 Intermediate People's Court claiming the firm used her image and name without permission. She is demanding 1.09 million yuan in compensation.

Cheung said in the lawsuit that she discovered Bosideng was using her picture to promote its products in ads run on dozens of TV stations throughout the country without her authorization.

The actress only learned of the ads last October, but her lawyer says the actress is certain they were running well before she signed her deal with Bosideng in August.

"The violation happened before the agreement was signed. Bosideng asked Cheung to sign the agreement in order to cover up its illegal acts," said Chen Kaiwei, Cheung's lawyer.

Cheung has earned international acclaim for her work, including best actress awards at the 1992 Berlin Film Festival and last year's Cannes Film Festival in France.

| | |
| --- | --- |
| | |
| Zhou Xun's new album on sale | |

| | |
| --- | --- |
| | |
| Cecilia Cheung in a commercial | |

| | |
| --- | --- |
| | |
| Green light for 'Amber' | |
Today's Top News
Top Life News

US-Japan security alliance should not include Taiwan




Market to have bigger say in yuan rate




Grain self-sufficiency still key for nation




Leading group to oversee energy sector




Heinz recalls its dye-fouled products




Italy rejects US version of Iraq shooting