Grain self-sufficiency still key for nation
By Jiang Zhuqing (China Daily)
Updated: 2005-03-07 07:47
China has enough grain reserves to cover its immediate needs, but the future does not look bright in the long run, national advisers said yesterday.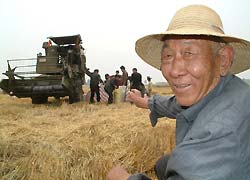 A farmer from Xinjiang County, Shanxi Province, points to a new harvester. The government will exempt farmers from agricultural taxes from 2006, said the government work report. [newsphoto]

Grain self-sufficiency is a key issue for a nation with 1.3 billion people, whose food consumption is mainly concentrated on grain products, said Duan Yingbi, CPPCC National Committee member, during a press conference at the annual session of China's advisory body.

"Judging from current figures, I think that in the near future there won't be any problems with the food supply," said Duan, also vice-chairman of the Economic Committee of the CPPCC.

However, the CPPCC National Committee member added: "In the long term I don't think we can be optimistic about the food situation due to the increased population and consumption growth caused by the improvement of living standards."

"China's grain reserves at central and provincial levels exceed the UN standard of 18 per cent of its annual needs," said CPPCC member Nie Zhenbang, a former director of the State Grain Administration.

In grain harvests from 1996-99 output exceeded 500 billion kilograms in the past three years, said Nie, adding that the harvests enabled China to greatly enrich its national and provincial grain depots.

The grain harvest peaked at 512 million tons in 1998, according to statistics, then declined due to bad weather and less land being planted.

Duan said it is difficult to improve grain output with such a situation and more industrialization and urbanization.

Between 1996 and 2003, about 6.7 million fewer hectares of farmland were planted, accounting for 5 per cent of the total, echoed CPPCC National Committee member Hong Fuzeng.

Duan said the agricultural infrastructure in China's rural areas is rather weak which exacerbates the problem.

Furthermore, there is a lack of long-term policies which encourage farmers and local governments to plant so much grain.

Despite these problems, Duan said he is "confident that China can feed itself on the condition that farmers' enthusiasm for growing grain can be mobilized through proper policies."

He said grain output in 2004 increased by 38.3 billion kilograms thanks to preferential policies adopted by the central government.

To encourage farmers to grow more, the government has ordered an end to farm taxes, boosted subsidies and promised to spend more on irrigation and other infrastructure projects, officials said.

"From a scientific and techno-logical view, high-yielding farmland in China can produce 1,000 kilograms of grain per mu (0.07 hectare), 20 times higher than low-yielding farmland," Hong said.

There is the potential for great increases in grain output considering that the proportion of low-yielding farmland accounts for just two thirds of the total, he said.




Today's Top News
Top China News

US-Japan security alliance should not include Taiwan




Market to have bigger say in yuan rate




Grain self-sufficiency still key for nation




Leading group to oversee energy sector




Heinz recalls its dye-fouled products




Italy rejects US version of Iraq shooting