Japan and US told: Hands off Taiwan
By Hu Xiao (China Daily)
Updated: 2005-03-07 07:44
Beijing yesterday warned that the US-Japan security alliance should be restricted solely to bilateral issues and not encompass Taiwan, an inalienable part of China.
"The Taiwan question is China's internal affair and should by no means be deliberated in the framework of the security alliance between the United States and Japan," Foreign Minister Li Zhaoxing said yesterday.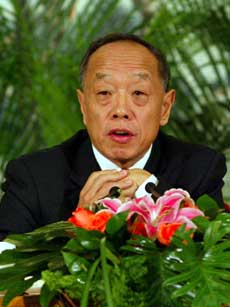 Chinese Foreign Minister Li Zhaoxing answers a question at a press conference March 6, 2005 in the Great Hall of the People in Beijing. [newsphoto]

He spoke at a press conference on the sidelines of the ongoing annual full session of the top legislature, the National People's Congress (NPC).

"Any move to include Taiwan directly or indirectly in the scope of US-Japan security co-operation constitutes an encroachment on China's sovereignty and an interference in China's internal affairs," Li said, adding that the Chinese Government and people are firmly against such action.

Beijing last month voiced strong opposition to a US-Japan joint statement which described Taiwan as one of their "common strategic objectives."

Describing the US-Japan military alliance as an arrangement reached under special circumstances of the Cold War, Li said it would definitely arouse uneasiness on the part of Asian countries and complicate the regional security situation if it goes beyond its bilateral scope.

Li yesterday stressed that the Taiwan question is "the most sensitive issue" in Sino-US relations and urged Washington to strictly abide by the three joint communiques between the two governments.

In these the US acknowledges there is only one China and Taiwan is a part of China, recognizes the government of the People's Republic of China as the sole legal government of China, and does not seek to carry out a long-term policy of arms sales to Taiwan and intends to reduce such sales gradually.

Some analysts say the concern expressed about Taiwan in the US-Japan statement is a reaction to China's proposed anti-secession law, which they fear would change the "status quo" across the Straits.

"It's just an excuse," said Yin Chengde, a senior researcher with Beijing-based Institute of International Studies.

"The US-Japan statement shows their potential willingness to expand their involvement in other countries' internal affairs or regional issues," Yin told China Daily yesterday.

Li Zhaoxing stressed yesterday that the anti-secession law was aimed at preventing the "Taiwan independence" secessionist forces from taking any action to undermine peace in the Taiwan Straits region.

"This legislation once again reflects our consistent stance to make the greatest efforts with utmost sincerity to seek the prospect of peaceful reunification," he said.

He added that the Chinese people will never tolerate the "Taiwan independence" secessionist forces making Taiwan secede from China in any name or by any means.

Ties with Japan

As for Sino-Japanese ties, Li said the proper atmosphere should be created to facilitate the resumption of the exchange of high-level visits between China and Japan.

There has been no high-level official visit since Premier Zhu Rongji's visit to Japan in October 2000.

China has expressed concern and indignation over Japanese Prime Minister Junichiro Koizumi's visits to the Yasukuni Shrine, which includes the remains of Japanese Class A war criminals of World War II.

China believes this seriously hurts the feelings of the Chinese and other Asian people. Li also called for a concerted effort by the two countries to handle historical issues.

China has "indisputable, historical and legal sovereignty" over Diaoyu Island and adjacent islands, Li said. He noted that related problems should be solved through talks on the basis of facts and should not affect the healthy development of bilateral relations.

EU arms embargo

Calling the European Union (EU)'s 15-year-old arms embargo a relic of the Cold War which has become out of date, Li said what China opposes is political discrimination.

The embargo is not in tune with the all-round strategic co-operative partnership between China and the EU, he said.

China adheres to the road of peace and development and does not need to buy a lot of advanced weaponry from the EU, he said.

"China is also a developing country," he added. "In fact, we do not have the money to buy expensive weapons that will not be used."




Today's Top News
Top China News

Top banker: State banks to go public soon




Japan and US told: Hands off Taiwan




Market to have bigger say in yuan rate




Grain self-sufficiency still key for nation




Leading group to oversee energy sector




Heinz recalls its dye-fouled products