Italy rejects US version of Iraq shooting
(Agencies)
Updated: 2005-03-06 21:49
Italian hostage Giuliana Sgrena, shot and wounded after being freed in Iraq, said Sunday U.S. forces may have deliberately targeted her because Washington opposed Italy's policy of dealing with kidnappers.
She offered no evidence for her claim, but the sentiment reflected growing anger in Italy over the conduct of the war, which has claimed more than 20 Italian lives, including the secret agent who rescued her moments before being killed.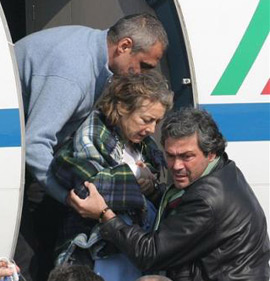 Italian journalist Giuliana Sgrena is helped to disembark from the plane which took her from Baghdad to Rome Saturday, March 5 2005. [Reuters]

Friday evening's killing of the agent and wounding of the journalist, who worked for a communist daily, has sparked tension with Italy's U.S. allies and put pressure on Prime Minister Silvio Berlusconi to take a hard line with President Bush.

The United States has promised a full investigation into incident, in which soldiers fired on the Italians' car as it approached Baghdad airport Friday evening.

The U.S. military says the car was speeding toward a checkpoint and ignored warning shots, an explanation denied by government ministers and the driver of the car.

Speaking from her hospital bed where she is being treated, Sgrena told Sky Italia TV it was possible the soldiers had targeted her because Washington opposes Italy's dealings with kidnappers that may include ransom payments.

"The United States doesn't approve of this (ransom) policy and so they try to stop it in any way possible."

According to Italy's leading daily Corriere della Sera, the driver, an unidentified Italian agent, said: "We were driving slowly, about 40-50 km/h (25-30 mph)."

In a harrowing account of her ordeal, Sgrena wrote in Sunday's Il Manifesto newspaper that the secret agent, Nicola Calipari, saved her life by shielding her with his body.

"Nicola threw himself on to protect me and then suddenly I heard his last breath as he died on top of me," she wrote.

PUNISHMENT, APOLOGY

Although Italy has denied paying kidnappers in past hostage releases, Agriculture Minister Gianni Alemanno told the Corriere that "very probably" a large ransom had been paid in this case.

Italian newspapers have speculated that anything up to 8 million euros ($10 million) may have been paid.

"We need to get the guilty punished and an apology from the Americans," Alemanno said. "We are trustworthy allies but we must not give the impression of being subordinates."

Italy's minister for parliamentary relations, Carlo Giovanardi, has also said he did not believe the U.S. version of events.

A national outpouring of grief and anger put pressure on Berlusconi, an ardent supporter of Bush and his war on terror, to get answers from Washington on what went wrong.

"All 57 million Italians who were united in the anticipation of Giuliana Sgrena's liberation have the right to know what happened," said Romano Prodi, the former prime minister and leader of Italy's center-left opposition.

Berlusconi summoned the U.S. ambassador immediately after the event and will need to present some answers from Washington when he addresses parliament Wednesday.

He led Italy into the conflict in Iraq where it has some 3,000 soldiers, a decision opposed by a majority of Italians and the opposition which is seeking to unseat him at a general election next year and weaken him at regional polls next month.




Today's Top News
Top World News

US-Japan security alliance should not include Taiwan




Market to have bigger say in yuan rate




Grain self-sufficiency still key for nation




Leading group to oversee energy sector




Heinz recalls its dye-fouled products




Italy rejects US version of Iraq shooting