A face for one thousand hands
(Beijing Weekend)
Updated: 2005-03-06 09:22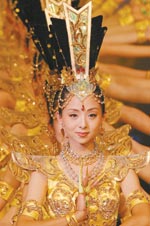 Rai in Full costume.

In the 15 days after Spring Festival, Tai Lihua, a dancer with the China Disabled People's Performing Art Troupe, accepted interviews from 85 various media outlets. On her busiest day, Tai met with 15 media.

What brought the 29-year-old dancer so much media attention was her performance in "The Thousand-handed Goddess of Mercy," a dance routine presented by 21 deaf and mute dancers during CCTV's popular Spring Festival Gala Show on February 8. Tai was the lead dancer of the piece. Because of the nature of the dance, most of the time Tai's face was the only one the audience could see.

As lead dancer and captain of the team, Tai has become a representative of the troupe and her fellow dancers.

"I hope people can still look at me with ordinary eyes," Tai said. "I hope instead that more attention can be given to disabled people who need help."

When Tai uses sign language to answer questions with an interpreter, she can also be heard murmuring common spoken language. And part of what she says can be understood.

The interpreter explained that ordinary people hear sounds at about 15 decibels, Tai can hear sounds at 95 decibels, classifying her as seriously hearing impaired.

"Apart from not being able to hear, my life is just like any other person's," Tai said. "What's more, I can better concentrate when I do things. No matter how chaotic the outside world is, my world is as still as water."

Tai began learning to speak at two and a half years of age. After she was given a streptomycin injection to treat a high fever, she began losing her hearing. She is still practising to speak. With an acquaintance, she can understand his meaning by reading his lips. But because it was such a long time ago, Tai has no impression what hearing normally is like.

When she went to kindergarten, she didn't realize that she was different from other kids until she tried to join a game distinguishing sounds.

She entered a primary school for deaf and mute children in Yibin, Hubei Province at seven years of age. There she was part of a class in which a teacher asked them to feel the vibration of a drum.

"I was thrilled with joy when the rhythmic vibration passed over my body from under my feet," Tai recalled.

Tai became obsessed with dance from then on.

At 14, the Hubei Disabled People's Association selected Tai to receive professional training. Later she received instruction from famous Chinese dancers such as Yang Liping and Zhang Jigang. From her various teachers she learned to dance with rhythm and to combine her movements with breathing.

When it was established in 1987, the China Disabled People's Art Troupe was an amateur performance troupe with members recruited from around the country. But that changed on May 13, 2002, when it staged its first commercial performance. Last year, the troupe made 10 million yuan (US$1.21 million), according to Wang Jing, director of Performance Department of the troupe.

With its success at CCTV's variety show, performance contracts have flowed in. The troupe has signed contracts to perform in 11 countries and eight Chinese provinces.

Besides Tai and her dance team, the performance, entitled "My Dream," includes various other acts including singing, instrumental solos and even orchestral conducting.

Tai and her dance team members, 11 girls and 9 boys, cannot hear the music, but their four instructors, who can hear and speak, signal the rhythm of the music from four corners of the room. With diligent practice, their performance is nearly flawless.

"Each time before we practise, our sign language teacher turns up the music and we put our hands on the speakers to feel the vibration," Tai said. "The teacher also explained the music to us. That, along with repeated practice, helps us to reach a state of near perfection."

Although Tai is deaf, it is hard to say that she is disabled.

She took the standard entrance examination to enter college in 1994 and was chosen by the Hubei Fine Arts Institute as a student majoring in decoration and design. She sat in the front row of her classes to watch teachers' lips and closely follow the blackboard. She also borrowed notebooks from classmates after class to make sure she didn't miss a beat. After four years, Tai graduated and received a BA degree.

She met her husband, a computer engineer, in 1995. The two married in 2002.

Because Tai was transferred to work in Beijing in 2002, the couple has only been together for about six months in the past three years, according to Tai. Her husband plans on joining her in Beijing upon his graduation from postgraduate programme from Wuhan University.

They contact one another via text messages and chatting on the Internet.

In her spare time, Tai reads books, surfs the Internet and draws. She even "listens" to music.

"We have a very good stereo system at home," Tai said. "I bare my feet and feel the music vibrate on the wooden floor."

Tai says she does not regret not being able to hear, because she was brought up in an environment full of love and she was surrounded by happiness.

Tai has visited nearly 40 countries with her troupe. They have performed at the John F. Kennedy Centre in New York City and the Teatro alla Scala in Venice, two of the world's most prestigious theatres.

Tai said when she is too old to dance, she hopes to teach other disabled people to enjoy the art form.

The tiny dancer is forever filled with optimism and never complains of her condition. "It depends on from which angle you look at it. People should look more at the good parts of life."




| | |
| --- | --- |
| | |
| Cecilia Cheung in a commercial | |

| | |
| --- | --- |
| | |
| Green light for 'Amber' | |

| | |
| --- | --- |
| | |
| Bill Gates bestowed knighthood | |
Today's Top News
Top Life News

Wen lowers 2005 economic growth target to 8%




Hu's vision for cross-Straits ties hailed





Agricultural tax to be scrapped from 2006




Dollar decline won't lead to forex sale




Liu Xiang wants more time and privacy




Italy demands answers on hostage shooting