Story of a secret love
(eastday.com)
Updated: 2005-03-06 08:54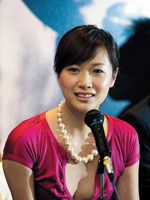 Actress Xu Jinglei talks about her second movie as director - "Letter from an Unknown Woman" - in Shanghai earlier this week.

Love happens when passion meets opportunity. It can be a bitter-sweet memory after a life-time of waiting and hoping but love will end up affecting one's life, no matter whether it is sought, nurtured or ignored.

Love is the theme of many movies but in "Letter from an Unknown Woman" - the second directorial effort of Chinese actress Xu Jinglei - it's a different kind of love.

Based on a short novel of the same name by renowned Austrian writer Stefan Zweig, the movie tells the story of a woman who devotes her whole life to a secret lover who is unaware of her love.

It's set in Beijing in 1948. A middle-aged writer (Jiang Wen) receives a letter from an unknown woman (Xu Jinglei) who sends it to him just before she dies. In the letter she professes to have loved him for over 18 years and this prompts the writer to begin a search to discover her identity. He is able to recall incidents in which the unknown woman approached him as a teenager, a university student and as a charming courtesan.

"It is no cheesy comedy or regular romantic love story," says Xu, who came to Shanghai this week to promote the movie. "Without an intricate plot, I have come to see it as a story about pure love - where a respectable woman leads a passionate, meaningful life. As I see it, today's women in love care only about their own feelings. The film could be like 'chicken soup' for them."

Hollywood adapted Zweig's novel for a movie made in 1948 and starring Joan Fontaine and Louis Jourdan.

"The adaptation of a masterpiece is a bold move for any director," says Wang Xinyi, a movie buff. "If a novel written decades ago is being adapted, the director must be able to present something novel and fresh to today's audience."

Xu says: "The emotion conveyed by the novel traverses space, time and national boundaries. Plus Stefan Zweig's works are quite ideal for film adaptation due to their length, content and storyline."

Xu, 31, tells Zweig's unusual love story in her own individual style using typical Beijing settings. And it seems that critics like the result - she won the Best New Director Award at the San Sebastian International Film Festival in Spain last September.

The biggest difficulty in adapting the book for the screen was in working out how to put down on film the long sequences describing the inner feelings of the heroine.

"Accordingly, I had to add detailed scenes, background information as well as some simple but expressive dialogue to the script," Xu says. "Some regrets still remain because I should have spent more time on building the characters and I had to cut one quarter of the movie in post-production."

Born in Beijing and graduating from the Beijing Film Academy in 1997, Xu first came to notice with her appearances in television series and in the film, "Spicy Love Soup." She built on her early success with movies "Spring Subway" and "I Love You," both popular hits in China, particularly with younger audiences.

Along with actresses Zhang Ziyi, Zhou Xun and Zhao Wei (Vicky Zhao), Xu has been hailed for her pretty figure and sweet smile.

Nevertheless, the ambitious Xu was not happy with her screen stereotype of always playing a fair, genteel and cultivated woman.

"As I did more acting, I found that it was a one-way process in merely expressing the ideas of the director," Xu says. "As an actress, I could easily excuse a bad performance by blaming it on the director, the script or something else. But a director has no excuses. I wanted to take on the challenging new role of being a director because it presented me with the opportunity to learn more about my craft."

In 2003, her maiden directorial work, "My Father and I," in which she starred with noted director Ye Daying, won her rave reviews and a Golden Rooster for Best Directing Debut in China.

That film portrays the delicate relationship existing between a Chinese father and his daughter. The two hurt one another as much as they love one another. Their struggle for love and understanding is one that many families have known.

"When directing 'My Father and I,' I didn't know much about filmmaking and encountered many editing difficulties. The only thing that supported me was a passion for film and blind confidence," Xu recalls with a smile.

The progress she has made in her career will be seen with the release of "Letter," Xu's second feature as both director and screenwriter. Audiences will appreciate Xu's talent as a female director after watching this exquisite and sentimental film which they will come to cherish.

"I love the beautiful ending," says Yu Wenjun, a fan of Xu's movies. "When the young face of the heroine appeared again, I was deeply moved and clearly read the passion, pain and hopes in her eyes. I think Xu now has a good control of the ambience, rhythm and visual elements of story-telling on film."

Comments made by the film cast and crew Xu assembled for "Letter" give a clearer picture of her double role in the movie.

"When she directed before the monitor, I was deeply impressed by her perseverance and confidence," says Huang Jue, who plays a military officer in the movie. "However, the moment she was in front of the lens, Xu immediately became the heroine-courtesan, a woman who wore sexy clothes, flirted with men and who kept her complex feelings and pain locked up."

The pair of "talking eyes" belonging to Lin Yuan, a 15-year-old high school student from Beijing, won for her the role of the "unknown woman" as a teenager.

"It was my first acting experience," Lin says shyly. "I was nervous in the beginning but when Xu patiently explained the storyline and the personality of the character to me, I felt much relieved."

The film cost about 20 million yuan (US$2.4 million) to make, not a small sum for a Chinese production, but the film's backers are confident of its success.

"Luckily we avoided the busy screening schedule around Valentine's Day, when about 10 movies were in fierce competition," says Yu Dong, general manager of the Beijing Poly-Bona Film Distribution Co Ltd. "Plus, International Women's Day next Tuesday may bring in more women who want to see a really 'feminine' film."

Xu is already working on her next project - a costume drama based on an epic of the Tang Dynasty (618-907 AD).

"The script is wonderful and this time I won't play any role - just enjoy myself as the director," Xu says with a grin.

Please refer to Page 18 for detailed screening schedule.




| | |
| --- | --- |
| | |
| Zhou Xun's new album on sale | |

| | |
| --- | --- |
| | |
| Cecilia Cheung in a commercial | |

| | |
| --- | --- |
| | |
| Green light for 'Amber' | |
Today's Top News
Top Life News

US-Japan security alliance should not include Taiwan




Market to have bigger say in yuan rate




Grain self-sufficiency still key for nation




Leading group to oversee energy sector




Heinz recalls its dye-fouled products




Italy rejects US version of Iraq shooting