Hu's vision for cross-Straits ties hailed

By Xing Zhigang, Eddie Luk (China Daily)
Updated: 2005-03-06 08:22
President Hu Jintao's vision for developing cross-Straits relations have been warmly received by people in Taiwan and the special administrative regions of Hong Kong and Macao.
They applauded the president for reflecting the Chinese people's heart-felt desire for peace and stability across the Taiwan Straits.
On Friday, Hu put forward four guidelines for developing cross-Straits ties at a panel discussion of members of the 10th National Committee of CPPCC representing the Taiwan region.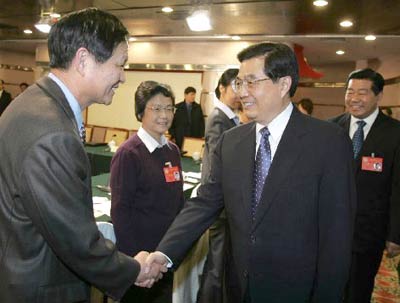 President Hu Jintao shakes hands with a member of the third session of the 10th Chinese People's Political Consultative Conference before joining them in group discussion March 4, 2005. [Xinhua]
The president said the mainland should never sway in adhering to the one-China principle, never give up its quest for peaceful reunification, never "change the principle of placing hope in the Taiwan people," and never compromise in opposing secessionist activities.
"President Hu has made it clear that the fate of Taiwan island is not just in the hands of its present residents," said Cheang Kok Keong, a Macao resident representing a non-governmental organization that works to promote peaceful reunification.
Hu said in his speech that China is home to 1.3 billion Chinese people including 23 million Taiwan compatriots; and both the mainland and Taiwan belong to the 1.3 billion Chinese people including the 23 million Taiwan compatriots.
Wang Wu-lang, director of the organizing department of Taiwan's Labour Rights Association, noted Hu's speech reflects reality and shows the determination of the motherland on reunification.
"Only through peaceful reunification and joint efforts can the two sides of the Taiwan Straits develop on a basis of mutual benefit. This is in line with the interests of the Taiwan people," he said.
Chan Kam-lam with the Democratic Alliance for Betterment of Hong Kong said: "The guidelines have sent a clear message that the central government strongly desires to resolve the Taiwan question through peaceful means."
He expects the guidelines to help improve cross-Straits relations as all Hong Kong citizens hope.
"Provided that cross-Straits relations remain stable and peaceful, Hong Kong could have further economic and community-level exchanges with Taiwan, which is conducive to Hong Kong's economic development," Chan said.
He added that the anti-secession legislation which is under consideration by the NPC is absolutely necessary to "prevent secessionist forces seeking Taiwan 'independence' from going to extremes."
Hong Kong Progressive Alliance Acting Chairman Carson Wen said that it is the shared and common wish of all Chinese people around the world to see a peaceful reunification of the motherland because people on both sides of the Taiwan Straits are "as close as flesh and blood."
They are bound by blood ties and a common cultural and historical ancestry; and peaceful reunification is in the fundamental interests of both, he said.
James Sung, a principal lecturer and political scientist at City University of Hong Kong, said: "The mainland's policy on Taiwan has become more flexible. It has allowed room to create favourable conditions for re-opening cross-Straits dialogue."
He said that it was crucial to establish the "three direct links" of trade, postal and shipping services now that the historic non-stop charter flights across the Taiwan Straits had materialized during this year's Spring Festival holidays, the first time in 56 years.
Timothy Wong, a political researcher at Chinese University's Institute of Asia-Pacific Studies, said that the central government's latest strategy will effectively curb the "Taiwan independence" secessionist forces and ease the tense relationships across the Straits.
Some Hong Kong citizens yesterday also voiced their support for the central government's policy in dealing with Taiwan.
Brenda Yeung, a 35-year-old school teacher, said that she hoped the SAR's success in implementing "one country, two systems" would set a good example for Taiwan to follow.

Today's Top News
Top China News

Wen lowers 2005 economic growth target to 8%




Agricultural tax to be scrapped from 2006




Hu's vision for cross-Straits ties hailed





Dollar decline won't lead to forex sale




Liu Xiang wants more time and privacy




Wounded Italian journalist returns home