Wounded Italian journalist returns home
(Agencies)
Updated: 2005-03-05 21:21
BAGHDAD, Iraq - An Italian journalist wounded by gunfire from U.S. troops shortly after being freed as a hostage in Iraq returned to her homeland Saturday looking haggard and worn. She expressed sadness for the intelligence agent killed trying to shield her from the bullets.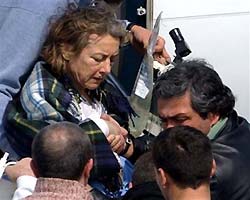 Freed Italian journalist Giuliana Sgrena, top, left, is carried of an aircraft at Ciampino military airport, in Rome, Saturday, March 5, 2005. [Reuters]

President Bush expressed regret and promised to investigate the incident, which happened at a checkpoint in Baghdad. The military said U.S. soldiers, not knowing the car was carrying journalist Giuliana Sgrena, fired after it failed to slow down.

But Bush's phone call late Friday to Prime Minister Silvio Berlusconi did little to assuage anger In Italy, which has been holding its breath over Sgrena's fate for weeks. The shooting was likely to set off fresh protests against Berlusconi for keeping 3,000 troops in Iraq despite strong opposition.

"Another victim of an absurd war," said Alfonso Pecoraro Scanio, leader of the Green Party. A communist senator called for a protest Saturday in front of the U.S. Consulate in Milan.

Sgrena left Iraq after she was discharged from an American military hospital in Baghdad where she had been treated for shrapnel in the shoulder. Berlusconi was among those who greeted her in Rome, where she had to be helped off a small, private jet. She was placed in an ambulance and was expected to undergo surgery on her collarbone.

Sgrena told colleagues at the leftist newspaper Il Manifesto that her captors never treated her badly, the Italian news agency ANSA reported.

Her brother, Ivan Sgrena, told reporters she was very happy to be back in Italy, but was "very sorry and sad" about the death of intelligence officer Nicola Calipari, who had negotiated her release.

"She's been tested, but she's alive. Finally, we've gotten to see her," said the journalist's father, Franco Sgrena.

Her arrival in Rome came as the Iraqi Shiite spiritual leader Grand Ayatollah Ali al-Sistani called on bickering members of the United Iraqi Alliance to cast aside their differences and form a government. Leaders of the clergy-backed alliance met in central Baghdad to discuss a way out of Iraq's growing political impasse.

Haggling over Cabinet posts following the Jan. 30 elections and Kurdish demands for more territory have so prevented the 275-member National Assembly from convening.

Sgrena, 56, was abducted Feb. 4 by gunmen who blocked her car outside Baghdad University. Last month, she was shown in a video pleading for her life and demanding that all foreign troops ¡ª including Italian forces ¡ª leave Iraq.

Friday evening's shooting occurred shortly after her release, the circumstance of which remain unclear.

The U.S. military said the car was speeding as it approached a coalition checkpoint. It said soldiers shot into the engine block only after trying to warn the driver to stop by "hand and arm signals, flashing white lights, and firing warning shots."

The Americans said two people were wounded, but Berlusconi said three were ¡ª Sgrena, Calipari and another intelligence officer.

The shooting came as a blow to Berlusconi, who continues to face huge protests over his support for the Iraq war and his refusal to withdraw Italian troops. Sgrena's newspaper was a loud opponent of the war.

In Baghdad, the Iraqi Journalists Union condemned the shooting and said it would mourn the death of Calipari. It planned a protest for next week.

Insurgents have repeatedly attacked checkpoints, and soldiers have often fired on cars that don't obey commands to stop or slow down. Iraqis have reported numerous incidents where confusion at checkpoints has led to the killing of innocent civilians.

Political leaders in the Shiite-dominated alliance met in Baghdad to find ways of convening the assembly. At least half the leaders want it to convene Sunday.

The meeting came after two of its members dropped out because they grew tired of the delays. The two were Ali Hashim al-Youshaa and Abdul-Karim Mahmoud al-Mohammedawi, who heads the Iraqi political group Hezbollah.

In the holy city of Najaf, one of the alliance's few Sunni members, Sheik Fawaz al-Jarba, met with al-Sistani.

Al-Sistani, he said, asked him to inform the alliance "to unite and to form the new government as soon as possible and not to delay this issue any longer, and that the interests of Iraq and Iraqis should be their first priority."

The two biggest blocks in the assembly are the alliance, with 140 seats, and a Kurdish coalition with 75 seats. They have for weeks been unable to reach a deal because of Kurdish demands that their control in the north be extended to oil-rich Kirkuk.

Also Friday, four U.S. troops were killed west of the capital in sprawling Anbar province, where American forces launched a sweep two weeks ago to root out insurgents, the military said. The four were assigned to the 1st Marine Expeditionary Force.




Today's Top News
Top World News

Wen: China's economy to grow 8% in 2005




President Hu sets forth guidelines on Taiwan




Premier Wen pledges more help for the poor




Rise of China's defence spending "modest"




Law only targets handful of secessionists




Wounded Italian journalist returns home