Premier Wen pledges more help for the poor
(Agencies)
Updated: 2005-03-05 15:42
Premier Wen Jiabao admitted China faced "glaring" social problems and pledged more help for the poor as he forecast economic growth of eight percent this year.
In his annual "state of the nation" address to parliament at the Great Hall of the People, Wen said a priority of the government would be to ensure the country's rapid social and economic development was not reckless.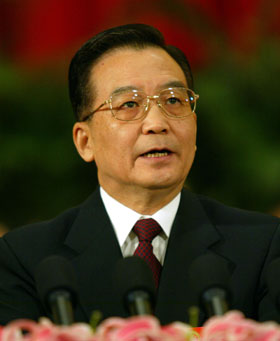 Premier Wen Jiabao delivers his government work report at the third session of the 10th National People's Congress in the Great Hall of the People in Beijing March 5, 2005. Wen stressed the goal of peaceful reunification of the motherland in his annual address to the parliament on Saturday and pledged to keep the world's sixth-largest economy growing without overheating. [newsphoto]

In the report Wen acknowledged that "we clearly see that problems and difficulties remain" in guiding the world's fastest growing major economy while keeping 1.3 billion people happy.

He cautioned that while opening up and reforming China would remain "the driving force behind all aspects of our work" development must not happen "recklessly".

"If we do not keep this in mind, we could end up just spinning our wheels and going nowhere or even suffering serious losses," he told the near-3000 delegates at the National People's Congress.

As China has raced into the modern age, a stark lack of economic opportunities among its 800 million rural dwellers has become increasingly evident, threatening social stability.

Government corruption and power abuse at the local level have been cited as major reasons hampering the development of the countryside and Wen vowed the issues would be tackled.

"Some low-income people lead difficult lives and there are more than a few factors threatening social stability," Wen said.

"Solving the problems facing agriculture, rural areas and farmers remains a top priority of all our work," said Wen.

One of the main concerns of the rural Chinese is graft within government and Wen admitted that "formalism, bureaucracy, dishonesty, extravagance and waste are relatively severe".

"We must face the above mentioned problems squarely and continue to adopt measures to solve them," he said.

Education would be "a strategic priority" in the year ahead, particularly in the countryside where various fees for the poor would be exempted and free textbooks offered.

Some 10.9 billion yuan (US$1.3 billion) will also be allocated to help laid-off workers find jobs.

To further help farmers, agricultural taxes will be abolished next year, while subsidies will be increased for grain producers.

To create enough jobs for the nation's millions, Wen announced an economic growth target of eight percent this year, up from previous years when seven percent was deemed the minimum to keep enough people out of unemployment.

"Maintaining steady and rapid economic development is an important issue that the government must successfully handle," Wen said in his speech.

"This is a period of important strategic opportunities for China, and the economy should grow rapidly, but not be allowed to overheat."

But he warned of a possible return to overheating of fixed asset investment while supplies of coal, electricity, petrol and transportation "are still very tight".

There was also still "considerable" inflationary pressure on prices.

In a wide-ranging speech, Wen also said China should continue to expand its military capabilities, with modernization of the army of strategic importance to safeguard the eventual reunification of Taiwan.

China will boost its military spending by 12.6 percent this year to 247.7 billion yuan (US$29.9 billion), about 7 per cent of the US military budget.

A key task of the NPC during its 10-day session will be to deliberate and pass a law aimed at curbing any Taiwanese bid for formal independence.

Wen repeated China's assertion that independence would never be tolerated.

"This law represents the common will and strong determination of the entire Chinese people to safeguard the sovereignty and territorial integrity of the country and never allow secessionist forces working for Taiwan independence to separate Taiwan from China under any name or by any means," he said.




Today's Top News
Top China News

Wen: China's economy to grow 8% in 2005




President Hu sets forth guidelines on Taiwan




Premier Wen pledges more help for the poor




Rise of China's defence spending "modest"




Law only targets handful of secessionists




Wounded Italian journalist returns home