China's economy to keep growing, at 8%
(Agencies)
Updated: 2005-03-05 11:25
Chinese Premier Wen Jiabao said the economy would continue to roar ahead, and the China would continue to maintain the renminbi yuan stable.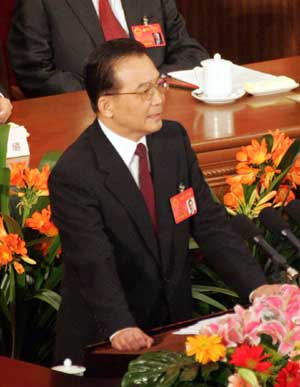 Premier Wen Jiabao delivers his government work report to the deputies at the opening session of the Third Session of the 10th National People's Congress in Beijing March 5, 2005. He said China plans an 8% GDP growth this year. [newsphoto]

The economic growth target has been set at eight percent, a level needed to create enough jobs for the nation's millions, Wen told the opening session of the National People's Congress, or parliament.

"Maintaining steady and rapid economic development is an important issue that the government must successfully handle," Wen said in his speech.

"This is a period of important strategic opportunities for China, and the economy should grow rapidly, but not be allowed to overheat," he said.

This year's growth objective marks a change from previous years, when China's planners have been aiming for seven percent growth as the minimum to keep enough people out of unemployment.

The growth targets have frequently been off by a large margin, such as last year, when economic growth eventually came in at 9.5 percent.

Eight percent growth in Asia's second largest economy is likely to mean that China will remain one of the world's top growth engines.

The global economy has been seen as sustained in recent months by the twin forces of China's producers and America's consumers.

Touching on the most sensitive issue in China's economic dealings with the outside world, Wen said the currency, the yuan, would remain "basically stable" this year.

"We will ... reform the mechanism for setting the exchange rate for the (yuan) and keep it basically stable at a proper and balanced level," he said.

The Chinese yuan has been pegged to the US dollar for a decade and has recently followed the American currency on its downward path against the world's major currencies.

As a result, China has come under intense pressure from foreign governments, especially Washington, who say the current value of the yuan gives Chinese workers an unfair advantage globally.

China's export engine last year kept spitting out goods to the world markets, gaining 35.4 percent from the year before, further fueling foreign worries.

In an apparent attempt to address such concerns, China will try this year to bring about export growth of no more than 15 percent, according to a separate report to parliament from the National Development and Reform Commission.

"Export volume has grown considerably in recent years to a very high level, and international trade friction is intensifying," the report from the commission said.

"Setting the target at 15 percent should help push enterprises to accelerate change in the pattern of their foreign trade growth, improve their import and export mix, and raise the quality and level of their foreign trade growth," it said.

The threat of mass unemployment, and accompanying social unrest, is the top reason why China is prioritizing rapid growth.

Even though China expects to create nine million jobs this year, the registered unemployment rate in the cities is nevertheless targeted at 4.6 percent in 2005, up from 4.2 percent last year, according to Wen's report.

China is facing a unique dilemma as it must boost employment even as it copes with the challenge of preventing overheating.

"Although the outstanding problems in economic activities have been somewhat alleviated, they have yet to be fundamentally solved," Wen said.

"There is the possibility of a return to overheating in fixed-asset investment, supplies of coal, electricity, petroleum and transportation are still very tight, and there is still considerable inflationary pressure."




Today's Top News
Top China News

Wen: China to keep yuan basically stable




President Hu sets forth guidelines on Taiwan




Rise of China's defence spending "modest"




Law only targets handful of secessionists




Women to get protection from harassment




China's housing prices up 14.4% last year