Greenspan comes under unprecedented political fire
(Agencies)
Updated: 2005-03-05 10:10
US Federal Reserve Chairman Alan Greenspan came under political fire this week as never before in his 18-year career.
The Senate's top Democrat, Nevada's Harry Reid, Thursday called the central bank chief "one of the biggest political hacks we have in Washington." Reid charged that Greenspan had called for fiscal discipline when Democrats ran Washington but is more tolerant of the government debt run up by President Bush, a fellow Republican.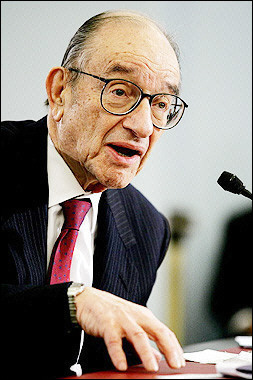 Greenspan, chairman of the Federal Reserve Board, testifies before the US House of Representatives Budget Committee on Capitol Hill in Washington, DC. [AFP]

The New York Times editorial page jabbed Greenspan on Friday for what it called "his familiar act of fealty to Mr. Bush: a vague endorsement of private accounts for Social Security." On the opposite page, Princeton economist and Times columnist Paul Krugman called Greenspan deceitful in his partisanship. Washington Post editorial cartoonist Tom Toles on Friday mocked Greenspan as a Bush stooge.

Internet blogs, an increasingly vocal voice in public affairs, were also buzzing on Friday; for example, The Daily Kos, which offers "political analysis and daily rant," issued a call to "unleash the blogosphere" to dig up dirt on "St. Alan."

Until now, Greenspan's reputation has been almost saintly. Ever since he guided the economy past recession despite the stock market crash of 1987, virtually all sides have treated him with deference approaching idolatry.

Greenspan hasn't been immune to criticism. He was rapped for his willingness to accept slow growth to curb inflation in the early `90's, for failing to pop the stock-market bubble late in the decade and his call to spend down the federal budget surplus in 2001, paving the way for Bush's tax cuts.

But the charge that he's become "a partisan hack" appears to reflect the deepening and increasingly bitter partisanship in Washington more than it does any growing tendency by Greenspan to be a Republican first and an economist second.

Eminent economists, both liberal and conservative, in Washington and on Wall Street, said that for years Greenspan has consistently warned that federal deficits are bad and that Social Security's financial future is shaky.

"His credibility is extremely high. His credibility has grown over the years. I think he has become sort of an iconic figure, and people take his pronouncements quite seriously," said Alice M. Rivlin, a liberal Washington economist who was President Clinton's budget chief from 1994 to 1996 and vice chair of the Federal Reserve Board from 1996 to 1999.

In fact, Greenspan made headlines on Wednesday when he told the House Budget Committee that today's federal deficits are "unsustainable," menace the economic future and must be curbed by spending cuts and higher taxes.

That sounded a lot like what he told the same committee on March 27, 1996, when he cautioned that chronic U.S. deficits were "a major problem for the long-term future."

"These are positions and opinions that he has had for a very long time, so it's not like he is toeing the party line," said Ed Yardeni, a veteran Wall Street analyst now with Oak Associates Ltd.

"He is the most credible person in the United States, at least on economic and domestic policy, and that has been the case for a long time," said William Niskanen, who served as President Reagan's top economic adviser.

"I think the reason for being upset about it on the part of Reid and others is he (Greenspan) is talking about matters that have become more partisan. His views have not changed," said Niskanen, now chairman of the Cato Institute, a libertarian think tank in Washington.

But Leon Panetta, a former House Budget Committee chairman and President Clinton's budget director, said Democrats can fairly question why Greenspan didn't warn forcefully in 2001 that Bush's tax cuts would create growing budget deficits.

"I think the failure to do that has probably come back to haunt him a bit," said Panetta.

Greenspan, who turns 79 on Sunday, began his fifth four-year term as Fed chairman in June 2004, but many in the financial world expect him to retire next January, when his separate 14-year term as a Fed governor expires.




Today's Top News
Top World News

President Hu sets forth guidelines on Taiwan




Wen: China to keep yuan basically stable




Rise of China's defence spending "modest"




Law only targets handful of secessionists




Women to get protection from harassment




China's housing prices up 14.4% last year