Syria expected to pull back troops
(Agencies)
Updated: 2005-03-05 08:58
Trying to ease incessant Arab and international pressure and the risk of isolation, Syrian President Bashar Assad is moving to pull his troops in Lebanon back toward Syria's border. But the step, short of a full withdrawal, was bluntly rejected Friday by US President Bush.
Assad was expected to announce the pullback in an address to parliament Saturday in Damascus, a Syrian diplomat said Friday. The speech comes after a rough week for Assad, beginning with the resignation of his allied government in Lebanon and ending with the Saudi Crown Prince Abdullah telling him face-to-face to get all his forces out of Lebanon quickly.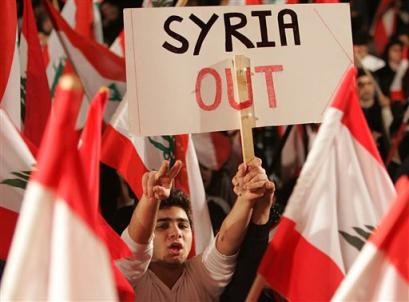 A Lebanese opposition protester carries an anti-Syria banner, during their daily demonstration against Syria in Beirut, Lebanon, Friday March 4, 2005. Syrian President Bashar Assad is widely expected to announce a troop pullback to eastern Lebanon near the Syrian border but not a full withdrawal in a speech to his parliament on Saturday. [AP]

But a redeployment — moving Syrian forces to eastern Lebanon, closer to the Syrian border — would likely not satisfy Arab leaders. Bush dismissed it as a "half-measure."

"When the United States and France say withdraw, we mean complete withdrawal, no halfhearted measures," Bush said in New Jersey.

Bush said he wants Syria's 15,000 troops and its intelligence agents out of Lebanon by May, when Lebanese parliamentary elections are to be held. "This is nonnegotiable. It is time to get out," he said in an interview published Friday in the New York Post.

Bush told the newspaper there was no threat of military action. But Arab nations are worried Washington or the United Nations could take tough measures to push Syria into leaving Lebanon, which Damascus has dominated for decades. To avoid such intervention, Saudi Arabia and Egypt are leading Arab efforts to get Damascus to go beyond just a redeployment and quickly remove all Syrian troops.

Syria also faces pressure from the opposition in Lebanon, which forced the resignation of the pro-Damascus government Monday with an extraordinary protest by 25,000 people, fueled by anger over the assassination two weeks earlier of former Prime Minister Rafik Hariri. Many Lebanese blame Syria and the Lebanese government for the killing; both deny any involvement.

Lebanese Defense Minister Abdul-Rahim Murad — a member of the pro-Syria government, which remains in place as a caretaker — said Assad was expected to announce "a redeployment to the Bekaa region" in eastern Lebanon, Murad told The Associated Press.

Such redeployments in the past have seen some Syrian troops return to their home country. But Murad said Assad's speech would not call for a full withdrawal.

He suggested Syria wants to keep some troops in Lebanon even after most are withdrawn. He pointed to the 1989 Taif Accord, an Arab-brokered agreement that calls for Syria to pull its troops to the border and then negotiate their removal with the Lebanese government. Syria never implemented the deal but has promised to do so.

In negotiations, he said, the governments will "discuss the number of troops required to stay and outline the areas where they would be stationed until the (Arab-Israeli) issue is settled."

In Moscow, Syrian Deputy Foreign Minister Walid Mouallem said he believed Assad would announce a pullback in the speech.

Mouallem said he informed Russian Foreign Minister Sergey Lavrov that Syrian and Lebanese leaders have agreed on an action plan for carrying out the Taif Accord. But he would not comment on a timetable.

Syria has said in behind-the-scenes diplomacy with Arab nations this week that it wants to keep 3,000 troops and early warning stations in Lebanon, according to an Arab diplomat in Cairo. Egypt and Saudi Arabia have opposed that idea and pressed Damascus on a timetable that would complete the removal of all troops by April, the diplomat said.

Syrian troops first entered Lebanon in 1976 and were backed by the Arab League as a peacekeeping force in the country's 1975-1990 civil war. When the civil war ended, the troops remained and have been the keystone of Syrian domination of Lebanon's politics.

Syria has redeployed its troops toward the border several times since 2000, and each time bringing out some men — lowering levels from 35,000 to 15,000 soldiers. The last pullback into eastern Lebanon took place in September, but Syrian troops remain in the central mountains overlooking Beirut and in northwestern regions.

Last month, Syrian Information Minister Mahdi Dakhlallah said if there was a new redeployment, some troops would return to Syria.

Syria's ambassador to the United States, in an interview published Friday, said withdrawal of Syrian troops would not be abrupt. "We are going to leave Lebanon. But we will not do this in a way that is chaotic. We will not create a vacuum," Imad Moustapha told the Cleveland newspaper The Plain Dealer.

British Foreign Secretary Jack Straw said there had been informal discussions in the U.N. Security Council about deploying peacekeeping forces in Lebanon to cover the withdrawal of Syrian troops.

But Murad said it would be "a great mistake to send foreign forces to Lebanon." Some Lebanese "will oppose and confront," he said in a television interview. "Why have forces that could cause further internal divisions?"

Britain: U.N. troops may be deployed

Members of the U.N. Security Council have discussed the possibility of deploying peacekeeping forces in Lebanon to cover the withdrawal of Syrian troops, British Foreign Secretary Jack Straw said Friday.

"There are already some U.N. peacekeeping forces in the south of Lebanon. It is possible that as part of a phased withdrawal from the Lebanon by Syria" there could be additional peacekeepers, Straw said in an interview with British Broadcasting Corp. radio. Straw said the possibility had been discussed only informally.

A Syrian withdrawal is essential and called for under a U.N. resolution last year, Straw said.

"Now every one of its neighbors is saying you have got to leave, and this includes very strong representations by Saudi Arabia and Russia," he said. "If they don't, they really will be treated as a pariah, not just by the West, but by most of their Arab neighbors."

Straw ruled out Western military action against Syria.




Today's Top News
Top World News

President Hu sets forth guidelines on Taiwan




Rise of China's defence spending "modest"




Law only targets handful of secessionists




Women to get protection from harassment




China's housing prices up 14.4% last year




Italy seeks US answers over Iraq shootout