Violence stifles Abbas' attempts at order
(Agencies)
Updated: 2005-03-05 08:53
A gunfight between Palestinian police and militants that left five people wounded Friday, underscoring factional violence that has weighed on Palestinian leader Mahmoud Abbas' efforts to restore law and order in the West Bank.
The shooting began when more than a dozen Palestinian gunmen from a small militant group affiliated with Abbas' governing Fatah party opened fire on a police station, provoking police to return fire. There were conflicting accounts about what provoked the fight.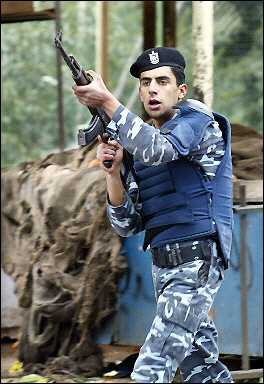 A Palestinian policeman fires into the air during clashes between Fatah militants and policemen in the northern West Bank town of Nablus. [AFP]

Militants said they started shooting after police tried to arrest a fellow militant who was driving a stolen car. But a police spokesman said the group was upset that one of its members had been beaten while in police custody.

Two policemen and three gunmen were wounded in the clash, hospital officials said.

"I heard loud noises and gunfire," said Mohammed Zohel, a witness. "I thought the Israelis had gone into the police station, but later I saw it was gunmen fighting the police. It is a real war and very frightening."

Abbas, trying to play down the second showdown between Palestinian authorities and militants this week, said Israel's continued presence in major Palestinian towns has impeded his ability to curb violence.

"We hope that Israel will withdraw soon from these cities so that we can control security in these cities," Abbas said outside his home in Ramallah. "As long as the Israeli army is in the Palestinian West Bank, there will be breaches and we will deal with it."

Abbas has been trying to persuade armed men to lay down their weapons, resisting calls from Israel and the international community for a crackdown. These calls have intensified since a Palestinian suicide bomber from the West Bank killed five Israelis in Tel Aviv on Feb. 25.

Israel agreed last month to pull out of five West Bank towns, but the handover was suspended after the suicide bombing. Nablus was not one of the towns on that list.

Earlier this week, tensions between the Palestinian Authority and the Al Aqsa Martyrs' Brigades, a larger militant group linked to Abbas' ruling Fatah party, descended into gunfire in the nearby town of Jenin. A town warlord, irked that the Palestinian security chief, Interior Minister Nasser Yousef, had come to Jenin without his permission, opened fire on a building where the minister was holding meetings.

Yousef ordered strongman Zakariye Zubeydi arrested, but later backed down.

While Abbas was trying to persuade Palestinians to close ranks, the results of a new poll published Friday in Israel showed large numbers supporting Prime Minister Ariel Sharon's plan to evacuate the Gaza Strip and four West Bank settlements, which has riven his own governing Likud party.

Sixty-nine percent of the respondents to the Dialogue firm's poll said they would vote in favor of the withdrawal if a referendum on it was held, while 28 percent said they would not, reported the Haaretz daily, which commissioned the poll.

Likud rebels have demanded a plebiscite on the withdrawal, but Sharon has refused, calling it a delaying tactic by pullout opponents.

Seventy percent of the survey's respondents predicted Sharon would continue dismantling settlements in the West Bank after the summer pullout is over.

Methodology and sampling errors were not published in Friday's newspaper. Other polls have shown about two-thirds of the people back the pullout.

Meanwhile, in the Rafah refugee camp in the southern Gaza Strip, a 2-year-old boy and two teenage boys were wounded by an old explosive device the older children were playing with.

North of Israel, Lebanese soldiers dismantled two Katyusha rockets that had been prepared for firing at an Israeli outpost Friday, security officials said.

The rockets were found at Tallousa, 60 miles southeast of Beirut and some two miles north of the Israeli border, the officials said on customary condition of anonymity.

The rockets were wired to a battery and were ready to fire, the officials said. They did not say which guerrilla group was suspected of mounting the rockets for fire.

The Lebanese militant group Hezbollah and radical Palestinian groups are known to have a strong presence in that area. The district is popular with Lebanese and Arab tourists who visit a tomb at Al-Abbad of a Middle Ages hermit.




Today's Top News
Top World News

President Hu sets forth guidelines on Taiwan




Rise of China's defence spending "modest"




Law only targets handful of secessionists




Women to get protection from harassment




China's housing prices up 14.4% last year




Italy seeks US answers over Iraq shootout