Italy seeks US answers over Iraq shootout
(Agencies)
Updated: 2005-03-05 08:31
Italian Prime Minister Silvio Berlusconi demanded explanations from the United States on Friday after American forces in Iraq wounded freed hostage Giuliana Sgrena and shot dead a secret service agent.
Berlusconi, a close ally of US President Bush, said he was stunned by the shooting and had summoned the U.S. ambassador to explain how American troops had fired on Sgrena as the Italian reporter was being driven to Baghdad airport.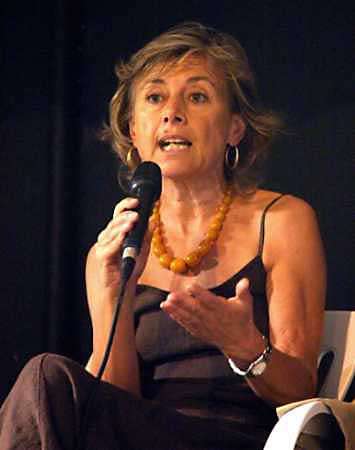 Italian journalist Giuliana Sgrena has been released from captivity in Iraq, Arabic television Al Jazeera said March 4, 2005 quoting unnamed sources. Sgrena, who was kidnapped in Baghdad, February 4, 2005 as she conducted interviews on the street, is seen in this undated handout photo. [Reuters/file]

"We were turned to stone when the officials told us about it on the telephone," Berlusconi told a news conference. "I immediately summoned the U.S. ambassador ... who will have to clarify the behavior of the U.S. military for such a serious incident, which someone will have to take responsibility for."

Sgrena, a reporter for the Rome-based Communist daily Il Manifesto, was seized in the Iraqi capital on Feb. 4. She was last seen in a video released on Feb 16. pleading for her life and urging U.S.-led forces to quit Iraq.

She was handed over to three Italian agents on Friday who drove her toward the airport, but the car came under U.S. fire at a checkpoint, Berlusconi said.

"The agent, Nicola Calipari covered Sgrena with his body, he was hit by a bullet which unfortunately was fatal," he said. All three other passengers were wounded. Sgrena was treated for a shrapnel wound in her shoulder at a U.S. military hospital.

Bush said he regretted the loss of life in the shooting. The Defense Department said multinational forces had fired at the car when it approached a checkpoint at high speed, later discovering who its occupants were.

White House says regrets death in Iraq shooting

The White House said on Friday it regretted the killing of an Italian security agent and the wounding of freed Italian journalist Giuliana Sgrena when U.S. forces fired on their car at a checkpoint in Iraq.

"We wish her a speedy recovery," White House spokesman Scott McClellan said of Sgrena. "We regret the loss of life."


Today's Top News
Top World News

Wen lowers 2005 economic growth target to 8%




Hu's vision for cross-Straits ties hailed





Agricultural tax to be scrapped from 2006




Dollar decline won't lead to forex sale




Liu Xiang wants more time and privacy




Italy demands answers on hostage shooting