Rise of China's defence spending "modest"
By Hu Cong (China Daily)
Updated: 2005-03-05 02:10
China's defence expenditure is likely to rise by 12.6-per-cent this year, National People's Congress (NPC) spokesman Jiang Enzhu said yesterday.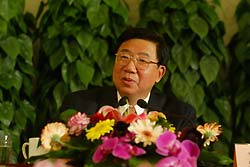 Following the preparatory meeting and the presidium's first meeting for the NPC held yesterday morning, Jiang Enzhu, spokesman for the third session of the 10th NPC, briefs foreign and domestic correspondents and answers questions. [China Daily]

The State Council will propose a 247.7-billion-yuan (US$29.9 billion) defence budget to the NPC annual session which opens today, Jiang said at a press conference yesterday in Beijing.

The proposed budget is 36 billion yuan (US$4.4 billion) more than in 2004

"The increase is still moderate and is at a very low level compared to those of other major countries," said Jiang.

He added: "China's defence expenditure accounts for just a small fraction of its gross domestic product (GDP). The defence budget last year accounted for less than 1.6 per cent of China's GDP."

China's military expenditure in 2003 was equivalent to 57 per cent of Japan's, 76 per cent of France's, and 5.7 per cent of the United States, according to a government defence white paper released at the end of December.

"The growth in military strength needs a long-term build-up, but the fact is China's defence expenditure has been running at a very low level for years," said Yan Xuetong, director of Tsinghua University's Institute of International Studies.

After almost zero growth during the 1980s, the current budget increase is the minimum needed for China to adapt to the global changed security climate, claimed Yan.

"The double-digit budget growth is not likely to generate substantial progress in China's military modernization in the short run, considering the low point it started from," he added.

Jiang said the increase in the defence budget, in addition to armaments, will go towards salaries, training, a military social security fund and allowances for demobbed soldiers.

China is expected to trim its military by 200,000 by the end of this year to 2.3 million.

No war mobilization

"The proposed anti-secession law is about peace rather than war," Jiang said.

He said the proposed law will codify a peaceful approach to solve the Taiwan question, which the mainland has adhered to over the past 20-plus years.

"It also has articles fostering direct trade, postal and shipping links between the mainland and Taiwan, Jiang said.

He added: "The anti-secession law is by no means legislation to attack Taiwan, let alone a war mobilization act."

He said the legislation is aimed not at Taiwan compatriots but is to contain secession from China as "reckless moves by secessionists have become the top barrier to China's reunification and a real threat to regional peace and stability" said Jiang.

The proposed law will reiterate the principle of "no-tolerance of Taiwan independence by any means."

But the mainland will not go to war as long as there is "a glimmer of hope" of peaceful reunification, Jiang said.

He added: "Opposing and checking Taiwan's secession is in the interest of peace and stability across the Taiwan Straits, as well as development of cross-Straits relations.

"It is in line with the well-being of Taiwan compatriots."

Jiang also warned Taiwan secessionists not to attempt to disrupt the 2008 Olympics by provoking Beijing.

"Should Taiwan secessionists miscalculate the situation and create major incidents entailing Taiwan's secession from China ... the outcome will certainly be opposite to what they desire," he warned.

He said running a successful Olympics in 2008 is the common wish of all Chinese people including Taiwan compatriots.

"The Olympics is a gala for all peace-loving people around the world," Jiang declared.




Today's Top News
Top China News

President Hu sets forth guidelines on Taiwan




Rise of China's defence spending "modest"




Law only targets handful of secessionists




Women to get protection from harassment




China's housing prices up 14.4% last year




Italy seeks US answers over Iraq shootout