China's housing prices up 14.4% last year
(Xinhua)
Updated: 2005-03-05 01:01
The average housing price in China jumped 14.4 percent in 2004, up 10.6 percentage points from the previous year, the National Bureau of Statistics reported Friday.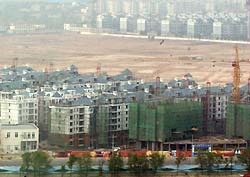 Apartment buildings erect in the city of Zhengzhou, capital of Central China's Henan Province. [newsphoto]

China witnessed a booming housing market in 2004, with 382 million square meters of housing sold, an increase of 44.12 million from the previous year.

By the end of 2004, the vacant floor space of housing dropped 8. 3 percent to 123 million square meters. Vacant space of resident housing dropped 15.6 percent to 74.05 million square meters, but that of business housing rose 5.2 percent. Investment in real estate jumped 28.1 percent to 1.31 trillion yuan (about 158 billion US dollars) last year, with 604 million square meter floor space of housing put to construction and 425 million completed, up 10.4 percent and 2.1 percent, respectively.

However, the land developed by real estate businesses last year dropped 11.4 percent to 223 million square meters, the report said.




Today's Top News
Top China News

President Hu sets forth guidelines on Taiwan




Rise in defence spending "modest"




Law only targets handful of secessionists




Jiang Zemin resigns remaining post




China's housing prices up 14.4% last year




Banned cancer-causing dye found in China