Venezuelan president renews threat to cut oil supplies to US
(Agencies)
Updated: 2005-03-04 14:53
Venezuelan President Hugo Chavez has renewed a threat to halt oil supplies to the United States if Washington "hurts" the Latin American country.
Relations between Venezuela, which exports the bulk of its oil to the United States, and Washington have been badly strained since Chavez last month accused Washington of plotting to have him assassinated.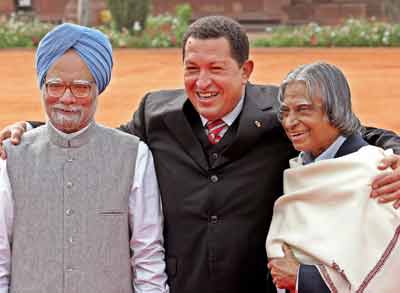 Venezuela's President Hugo Chavez (C) with Indian counterpart A. P. J. Abdul Kalam (R) and Indian Prime Minister Manmohan Singh poses for photographers before his ceremonial welcome in New Delhi March 4, 2005. Chavez is on a four-day long state visit to India. [Reuters]

"If there is any aggression, there will be no oil," Chavez, who arrived in New Delhi on a four-day visit to India told journalists, the Press Trust of India reported on Friday.

"We want to supply oil to the US. We're not going to avoid this supply of oil unless US government gets a little bit crazy and tries to hurt us," he said after a ceremonial welcome at the Indian president's palace.

The US State Department has dismissed Chavez's accusations that Washington is seeking to have him killed as "ridiculous and untrue."

Venezuela is the world's fifth-biggest oil exporter and is among the largest providers to the United States.

Chavez, who is on a trip to India where energy will top the agenda, started alleging Washington was planning his death after the United States criticised some of his government's actions as "deeply troubling."

Earlier this month, Chavez told a news conference in Uruguay that the United States would not receive a drop of oil if he were to be killed.

Asked whether the Organisation of Petroleum Exporting Countries (OPEC), of which Venezuela is a member, will increase output to cool current near-record prices, Chavez said Friday the cartel was "producing enough".

"(The) increasing price of oil has nothing to do with OPEC. It is the structure of the market," he said, adding OPEC was evaluating factors at work.

Chavez has signed oil deals with various countries including China since last year and is due to ink an energy agreement aimed at enhancing cooperation with India during his visit.

Energy-hungry India, which imports nearly 70 percent of its fuel needs, has been scouring the world for new supplies to keep its fast-growing economy on track.




Today's Top News
Top World News

Anti-secession law not a "war mobilization order"




Birth defects on rise after checks loosened




China experiences rising school dropout rate




China lashes out at US human rights violations




US troop deaths in Iraq rise to 1,500




Conjoined twins fight for life in Shanghai