Green light for 'Amber'
(eastday.com)
Updated: 2005-03-04 14:27
The love story of an 'impassive, manic, shy and cheeky man' and a 'mysterious, beautiful, tranquil and weird woman' comes to the Shanghai stage as a multimedia musical later this month.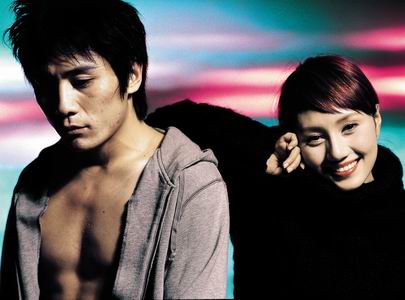 Stars Liu Ye (L) and Yuan Quan — former classmates at the Central Theater Academy in Beijing — play the leading roles in the musical, "Amber." [eastday]
It's a story of love and deceit.
Museum guide Xiao You's boyfriend dies in an accident and surgeons transplant his heart into the body of another man who leads a dissolute life.
Xiao, in the hope of hearing the heartbeat of her lost boyfriend once more, finds Gao and comes to believe that she can help him redeem his soul. Love, inevitably, grows between them ...
This is the story of the multimedia musical, "Amber," currently having its premiere at Hong Kong's annual arts festival.
It comes to the stage of Shanghai's Majestic Theater from March 16 to 20.
For many years, Beijing-based director Meng Jinghui's name has been associated with "avant-garde" in Chinese theater and the 40-year-old is considered as one of the most influential figures in China's theatrical circles.
In a previous interview, Meng said it was "the magic of human nature and the inexplicable antagonisms between the sexes" that attracted him to the love fable of "Amber."
He said he did not choose the title "Amber" intentionally -- it means nothing special but is "just an unusual word that carries a bit of sorrow with it."
It is the second time Meng has collaborated with his wife, playwright Liao Yimei. In 1999, the couple's trial run with the experimental drama, "Rhinoceros in Love," proved to be a huge commercial success.
It did wonders in box offices around the country and became revered as a "love bible" by the younger generation.
"I didn't want to repeat myself. I wanted to create something new," Meng says of "Amber." "Also, I hope that, when watching the play, the audience will forget about the director and pay more attention to the actors."
The cast includes Liu Ye, the youngest winner of Taiwan's Golden Horse Award for Best Actor in 2001 for the film "Lan Yu" and winner last year of China's Golden Rooster Award for Best Actor in "The Foliage."
Established actress Yuan Quan, winner of the Golden Rooster Award for Best Supporting Actress in "Pretty Big Feet" in 2002, is the other star and the two used to be classmates at the Central Theater Academy in Beijing.
"I haven't done a stage play since I graduated four years ago," says Liu, 27. "It will be a great challenge to me because unlike television and films, drama doesn't allow you to make any mistake from the beginning to the end. It gives me the feeling of returning to campus life."
Yuan says she is enthusiastic about the play because she has dreamed of working with Meng for a long time. The play also gives her the chance to return to the stage after she fractured her collarbone two years ago when rehearsing for another play.
"I'm quite proud of their acting," Meng says. "They have vividly delivered the 'inner temperament' of their roles -- an 'impassive, manic, shy and cheeky man' and a 'mysterious, beautiful, tranquil and weird woman'."
Meng's trademark sarcasm and black humor will also be seen on stage together with a bold use of music, light and settings.
"Amber" invited well-known Taiwanese musician Yao Chien to be the music supervisor. He is instructing Liu and Yuan in singing and dancing -- a first for both of them.
Co-produced by the Beijing-based China National Drama Theater and Hong Kong Arts Festival in association with the Singapore Arts Festival, the musical spectacle moves on to Beijing and Singapore after its Hong Kong and Shanghai performances.
It will be the first time the China National Drama Theater tours Asia.
Date: March 16-20, 7:30pm
Address: 66 Jiangning Rd
Tickets: 100-680 yuan
Tel: 962-288, 5288-0579, 6217-2813

| | |
| --- | --- |
| | |
| Green light for 'Amber' | |

| | |
| --- | --- |
| | |
| Bill Gates bestowed knighthood | |

| | |
| --- | --- |
| | |
| Faye Wong, Li Yapeng 'tie the knot' | |
Today's Top News
Top Life News

Anti-secession law not a "war mobilization order"




Birth defects on rise after checks loosened




China experiences rising school dropout rate




China lashes out at US human rights violations




US troop deaths in Iraq rise to 1,500




Conjoined twins fight for life in Shanghai