Women PhDs the 3rd type of people besides men, women?
(Shanghai Star)
Updated: 2005-03-04 12:23
Li Fei faces a hard choice. On the one hand, her good academic performance during the past two years' study for a master's degree has won her a chance to pursue a PhD directly.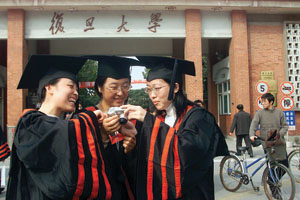 Three girls browse the display of a DC as they pose in their costumes in front of Fudan University in Shanghai. [Shanghai Star]


Yet on the other, almost all her friends are trying to persuade her to quit further study.

" 'Otherwise you will find it super-difficult to find a husband,' that's what they say to me," Li said.

"Their worries are not groundless," she said. "There are too many negative judgments about highly educated women. The very title 'Doctor' so gorgeous when ornamenting a man, turns into a derogatory term when applied to women."

According to Li, women after acquiring too much knowledge are believed to become "dried up, boring, and even no longer a woman at all."

Jokes about women PhDs are not rare, for instance: "There are three types of people in the world 'men, women and women PhDs.'"

Another joke quite popular among young Chinese compares educated women to the women characters in well-known writer Jin Yong's famous kungfu novels.

In the joke, women with bachelor's degrees are called Huang Rong (depicted in the original novel as clever and beautiful), but women's image worsens as their educational attainment increases.

When it reaches the level of a PhD, women are compared to Miejueshitai (old nuns who have acquired good kungfu skills but become cruel, fierce and ugly).

These jokes have an effect.

Li has a neighbour who has earned a PhD. The woman is not ugly at all, but she still hasn't been able to find a husband, even though she is already in her 30s.

Many men don't even want to see her photo when they hear about her awesome degree, let alone considering dating her.

"Although the country is getting more open-minded in many ways, the prejudice against women PhDs has not reduced. Instead, it is getting more serious," said Yu Jian, manager of a local match-making agency.

He cited one example, saying that not long ago in Nanjing in Jiangsu Province, a woman PhD holder, in fear that her high degree would drive men away, had written on the matchmaking agency form that her education attainment stopped at the bachelor level.

The situation turns out to be no better here, despite the city's image as China's biggest centre of avant-garde thought.

In Yu's agency, about 10 per cent of young women clients are women PhDs, and he predicts that the figure will continue to grow.

Although he hates to say "sorry" to any of his clients, over 70 per cent of the women PhDs who come to the agency for help are simply turned away.

"I couldn't find a match for them from my agency," Yu said. "So out of a sense of responsibility, the only thing I could do was to decline them directly and ask them to try their luck with other agencies. But most probably they would just face the same answer in any other places."

Traditional ideas

There are several reasons for the unpopularity of women PhDs, but the most important one is probably still the Chinese traditional ideal of "stronger men, weaker women."

"A man tends to look for a wife who is less capable than himself. In this sense, the only men who would feel free to marry a woman PhD would be those with PhDs or even higher qualifications themselves," Yu said.

It is not only men who think like that. Many women also hold the same beliefs. Of the women PhD clients Yu directly turned away, most had insisted on finding a man who was at least their equal in education attainments. Many even attempted to find men with PhDs in the same field.

"The fact is, men with high degrees are quite popular among women," Yu said. "They have many more choices."

The women PhD holders who agreed to lower their requirements also had problems.

"Men want to lead a more light-spirited life, but that could be hard to achieve if they marry women PhDs," Yu said.

"Traditional ideas would lead them to feel embarrassed if they are less capable than their highly educated wives. They would have to work hard to prove they are actually more able than their wives, if not in academic respects, at least in others."

At Yu's agency only half of the women PhDs who lowered their requirements succeed in finding a boyfriend, with the search typically requiring great patience.

"Many women PhDs are too negligent about their appearance, which is another reason for their unpopularity," he said.

"They spend too much time on their studies. The lack of contact with the wider society has led many of them to still dress in the school girls' style," he said.

Seeing eye to eye with Yu, Zheng Jie (not his real name) a PhD student at Jiaotong University, said many women PhDs he saw on campus dressed too plainly.

"It seems to me that none of them knows how to use make-up," he said. "They have no fashion sense, but marriage has something to do with sex. Without looking attractive, how can they expect someone to fall in love with them?"

Unequal perceptions

Zhou Meizhen, a woman scholar with the Shanghai Women Cadres College, has a different view.

"It only shows how the inequality between the two genders is still serious," she said. "Although women have won education rights, the society's old ideology that 'women are virtuous only when they are illiterate' is still influencing people's thinking."

People tend to require that women be lovely and pretty, but they never require a man to look lovely.

When women are negligent about fashion, they are said to have lost their femininity, but people never say a man is not like a man if he doesn't pay careful attention to his appearance, Zhou said.

When women's traditional image is broken by women PhDs, society starts looking at them in a twisted way.

Their rationality, determination, obstinacy and decisiveness 'all advantages in men' become weak points in women, especially when talking about marriage, she added.

Zhou considered the difficulties faced by women PhDs when seeking boyfriends to be quite deep rooted and unlikely to disappear until society accepted women as more than consumable items for viewing and enjoying.

Zhou advised women PhDs to be less picky, since trying to find a boyfriend with qualification as impressive as their own would inevitably narrow their range of choice.

"Also, they should try to divert a little of their attention from their studies to the men around them," she said.

| | |
| --- | --- |
| | |
| Cecilia Cheung in a commercial | |

| | |
| --- | --- |
| | |
| Green light for 'Amber' | |

| | |
| --- | --- |
| | |
| Bill Gates bestowed knighthood | |
Today's Top News
Top Life News

Anti-secession law not a "war mobilization order"




Birth defects on rise after checks loosened




China experiences rising school dropout rate




China lashes out at US human rights violations




US troop deaths in Iraq rise to 1,500




Conjoined twins fight for life in Shanghai