Hooked on a popular hero Lei Feng
(eastday.com)
Updated: 2005-03-04 09:39
Fang Guanlong said he was a busy man these days.
Last Sunday, he spent the day at a community gallery preparing for an exhibition about Lei Feng, a soldier who became a national hero after he died about four decades ago at the age of 22.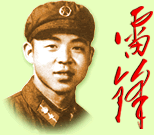 Every year around March 5, the day late leader Mao Zedong proclaimed the nation should commemorate Lei, Fang involves himself in spreading the word about the hero.
"My life somehow changed when I encountered Lei's story. I was 14," the 56-year-old said.
It was on the morning of March 5, 1963, he recalled, when he read on the front page of People's Daily several big words by Mao: "To learn from Lei Feng."
Fang said: "His spirit of devoting himself to the people has always been alive in my heart, kindling the road ahead of me."
Since the early 1990s, Fang has collected more than 1,000 souvenirs related to Lei.
Fang's collection falls into 20 categories such as slides, audio cassettes, videos, photos and print materials that detail Lei's life.
It includes books with famous quotations from Lei's diaries, as well as seals, cards, posters, matchboxes, monthly bus tickets, bookmarks, and calendars with the young soldier's portrait.
"People call me a most stubborn Lei super fan because each time I glance at his smile, my eyes sparkle," Fang said. "The only thing I do on weekends is to go around to markets seeking more things about him."
Lei Feng was born a peasant in 1940 in Wangcheng County of Hunan Province and lost both his parents by the age of seven.
He joined the People's Liberation Army at 20 and spent his spare time and money helping the needy.
On August 15, 1962, he was killed when a truck backing up struck a pole that fell on him.
March 5 has been designated as "Learning from Lei Feng Day" after Mao's words were published in 1963.
"Lei did not commit great deeds by which he was remembered, but taught people to be happy with what they had, and to help others with their heart," Fang said. "Although he has been gone for a long time, his spirit will never die."
Fang said more volunteers were contributing to social welfare in the city, showing that Lei's spirit is indeed alive.
"I saw numerous people donate to sufferers of the Indian Ocean tsunamis."
Fang said he wants to take his collection into schools. "I'll try to bring Lei's self-sacrifice and devotion into the 21st century and into the hearts of the young."
| | |
| --- | --- |
| | |
| Bill Gates bestowed knighthood | |

| | |
| --- | --- |
| | |
| Faye Wong, Li Yapeng 'tie the knot' | |

| | |
| --- | --- |
| | |
| Mian Mian reaches maturity with 'Panda Sex' | |
Today's Top News
Top Life News

Nation sees the power of CPPCC proposals




China lashes out at US human rights violations




Birth defects on rise after checks loosened




Today's special: slam dunking super star




China experiences rising school dropout rate




US troop deaths in Iraq rise to 1,500