Eleven-year hunt is over
(China Daily)
Updated: 2005-03-04 08:54
He could still have been at large - a migrant worker in bustling Foshan, or disguised as a coal miner in sparsely-populated Xinjiang Uygur Autonomous Region.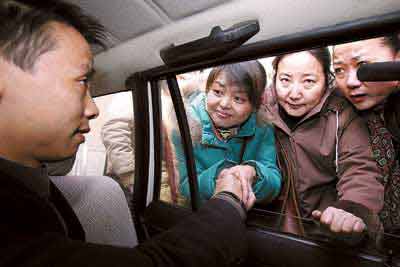 Xiang Fei (2L) shakes hands with Gu Haijun before he is taken away by police. [newsphoto]

|
But 31-year-old Gu Haijun had made up his mind that he could run no longer.

Is this a modern version of what the Chinese proverb describes? "A prodigal is appreciated more than anything else if he mends his ways."

What does it take for someone like Gu, who has evaded capture for so long, to give himself up?

"Xiang Fei and her programme encouraged my confession," said Gu.

Xiang is a presenter at China National Radio (CNR).

On February 4, runaway Gu sent a short message from his mobile phone to the interactive platform of CNR's talk show "Shen Zhou Ye Hang," or "China Night Navigation," and asked its host for help.

"Hello Xiang. I'm an outlaw who stands at a crossroads in my life. Could you tell me which way I should go?" asked Gu.

"I noticed such a strange message but made no immediate reaction to it on my show," said Xiang.

Instead, she gave her own mobile phone number to Gu and waited for further private contact with the unknown sender.

Xiang Fei's talk show was launched on January 6.

Her story-telling-style phone-in programme has become popular among those who have something to say about daily life and those with problems looking for advice and understanding.

"There are many crossroads in our lives, upon which different choices may lead to varied destinations," Xiang said in one of her previous shows.

Gu happened to be listening to the programme.

Hearing Xiang's words, he felt concerned and so became a regular listener.

Gu called Xiang "older sister" from his very first phone conversation with her on February 5, and he came to trust her completely.

Since then, the pair had almost daily contact, until Gu made his decision.

Their first telephone conversation lasted for less than five minutes. At that time Xiang did not advise voluntary surrender.

"I tried to understand Gu's story and then stabilize his thoughts by shifting their topics on to love as well as family," Xiang said.

Gu was married and has a son in his hometown in Sichuan.

During their online exchanges, Xiang got to hear that Gu had committed a crime, and realized his original message was not a joke.

Gu allegedly confessed that he accidentally killed a workmate during a fight over a pair of slippers when taking a bath on May 10, 1993.

He left his job at a brick factory in his hometown in Renshou County, Sichuan, and started life as a fugitive.

Being a good listener, Xiang gave Gu a chance to get his admission off his chest. This emotional comfort inspired his decision.

Gu told Xiang about his experiences. He constantly changed jobs and where he lived for fear of being arrested, and fled from the south to the north of the country, spending time in Xinjiang, Handan in Hebei Province and Guangdong in the south.

"I once overheard that eight police officers were coming to arrest me in Urumqi in Xinjiang," said Gu. "I had to hide in a tunnel and huddle in a corner 30 metres underground for the whole night. That's terrible!"

But it was only one of a series of occasions when he felt close to death. "I felt I must end such torturing miseries and be brave enough to face justice," Gu explained.

"I know I should be punished by law although I did not do it on purpose," he said.

But he hesitated due to a lack of confidence.

"Gu was over-vigilant for the past 11 years, and he longed for an unburdened life," Xiang said.

At this time, Xiang had played a decisive role.

With a basic picture of what Gu had done in the past, Xiang began to consult with legal experts, trying to find out what term of imprisonment Gu would face.

Two days before Chinese lunar New Year, Gu told Xiang that he could no longer remain on the run. Gu said that he felt so sorry for his family, particularly his 11-year-old son.

"I assured him that he would possibly not face the death penalty and there was a future for him if he confessed," said Xiang.

"Gu is a person with a sense of justice," says a mobile phone message sent to Xiang by one of Gu's former workmates. "He always extends a helping hand to others whenever they meet difficulties."

Last year, Gu thwarted a theft in a street in Miquan County, Xinjiang.

But he was forced slip away when the pickpocket realized he was not a police officer, and said he planned to confront Gu at a nearby police station.

On February 16, Xiang called Gu and found he was on a train. He was on his way to Beijing to give himself up.

But he asked Xiang for one more favour - to accompany him to the police station.

On February 17, lighthearted Gu showed up at CNR, where he left his mobile phone and 100 yuan for Xiang to send to his wife.

"I am finally extricated," Gu told Xiang once he was in police custody.

"I had never been so open throughout my whole life."

Given a dictionary and a notebook by CNR, and Xiang's good wishes, Gu promised that he would accept any punishment and replan his life.

Gu is currently in custody awaiting a hearing.





| | |
| --- | --- |
| | |
| Cecilia Cheung in a commercial | |

| | |
| --- | --- |
| | |
| Green light for 'Amber' | |

| | |
| --- | --- |
| | |
| Bill Gates bestowed knighthood | |
Today's Top News
Top Life News

Anti-secession law not a "war mobilization order"




Birth defects on rise after checks loosened




China experiences rising school dropout rate




China lashes out at US human rights violations




US troop deaths in Iraq rise to 1,500




Conjoined twins fight for life in Shanghai