Bush edges toward Europe on Iran nuclear crisis
(Agencies)
Updated: 2005-03-04 08:45
US President Bush on Thursday edged toward backing Europe's offer of incentives to Iran to abandon nuclear weapons, but diplomats said Tehran was building a research reactor that could eventually produce enough plutonium for one bomb a year.
A shift toward the European position would represent an important change in U.S. strategy toward Iran, an enemy Bush has been unwilling to reward for what he sees as its bad behavior over the nuclear issue.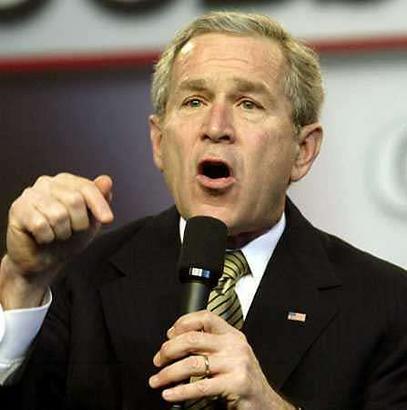 President George W. Bush was leaning on March 3, 2005 toward backing Europe in offering incentives to Iran to persuade it to give up nuclear ambitions, U.S. officials said, in a significant shift in strategy toward an arch enemy. Bush is seen at an event in Arnold, Maryland March 2. [Reuters]

"We want to help make sure the process goes forward and we're looking at ways to help move the process forward. The guilty party is Iran," Bush told reporters.

With U.S.-European talks close to agreement, Bush discussed Iran with Secretary of State Condoleezza Rice, who met on Tuesday in London with foreign ministers of the three European nations negotiating with Iran -- Britain, France and Germany.

Diplomats said they learned from satellite photos that Iran had begun work on a research reactor.

"Iran has laid the foundations for the research reactor at Arak," said a Western diplomat close to the U.N. International Atomic Energy Agency in Vienna.

In September, the IAEA board of governors called on Iran to reconsider its decision to start building a reactor of a type that can be used to produce bomb-grade plutonium.

Iran also wants to test parts for machines for nuclear work, diplomats said, which showed that its freeze on activity which could produce atomic weapons would only be short-lived.

The Western diplomats said Iran had made this request despite European Union demands that it stop activities linked to uranium enrichment.

U.S. officials said under the new joint strategy toward Iran, the United States would not block Tehran from joining the World Trade Organization, and would not prevent European allies from selling Iran civilian aircraft parts.

URANIUM ENRICHMENT

In turn, the United States would insist that Iran abandon uranium enrichment, something it has refused to do.

Bush may also slightly ease U.S. sanctions law to permit American non-governmental groups to operate in Iran, said congressional and diplomatic sources.

Some U.S. officials believe offering incentives will strengthen the international community's hand by providing a united front for punitive measures, such as U.N. sanctions, if the incentives do not work.

Rice said the negotiations would show whether Iran was ready to end suspicions that it is pursuing a nuclear bomb.

"We believe that the EU negotiations are leading in the right direction because what they are doing is they are confronting Iran with a choice about whether it is prepared to give the international community the kind of confidence it needs about Iranian activities," she said.

Bush said Washington was working with its European allies to ensure that "the negotiating strategy achieves the objective of pointing out where guilt needs to be as well as achieving the objective of no nuclear weapon."

An announcement of the president's strategy could come this week, U.S. officials said.