Today's special: slam dunking super star
By Raymond Zhou (China Daily)
Updated: 2005-03-04 01:47
HOUSTON, USA: There's no such thing as a tall order at a new Chinese restaurant in Texas even if the owners have a ball-bouncing giant adored by millions for a son.
The parent's of Yao Ming, the Chinese basketball sensation making it big in the United States, opened The Yao Restaurant and Bar late last month.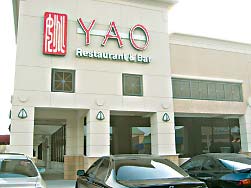 Yao Restaurant and Bar in Houston is making headlines just like the Rockets centre. [China Daily]

Cynics might say Mr and Mrs Yao are exploiting their son and cashing in on his fame.

Not at all. The restaurant is first and foremost to serve strapping 2.26-metre Yao Ming some good, wholesome home cooking by mum.

A growing young man needs good food, and though Yao has stopped short of the clouds, he is known to be a fussy eater.

But his home is too far from the training ground to pop back to for regular meal times.

So the Yao's have teamed up with some fellow Chinese ex-pats and opened the restaurant in between Yao junior's home and work.

And mum's cooking is the talk of town... well, second in line for dinner conversation after diners scan the tables - some of whom travel miles and queue for one of the 440 seats - for a glimpse of the tall one.

"The 'Yao' in the restaurant's name refers to Yao Zhiyuan, not his son," clarifies Yu Di, a local restaurateur who is a partner in the Yao's venture.

Yao's parents, dad Zhiyuan and his mum Fang Fengdi, also wanted to provide a haven for their son who is always mobbed at other city restaurants.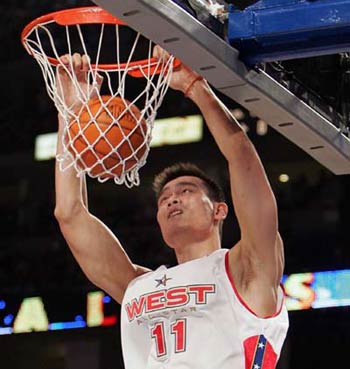 Houston Rockets center Yao Ming from China dunks the ball during the first half of the 54th NBA All-Star Game in Denver, February 20, 2005. The east won the match 125-115. [Reuters]
Yao was once quoted as saying that the best Shanghainese cuisine in Houston can be found only in his home, which is located in the western suburb of Houston, about a 45-minute drive from the downtown sports stadium.
So the Yao eatery has private dinning rooms, a shower, Internet and computer games - and good grub, of course; all the wants of one of the world's biggest sports stars.
Yao, a Shanghai native who loves his hometown cooking, has sometimes been criticized for being too restrictive in his diet.
However, the star is not expected to come out greeting customers. Even his parents, who are intensely private, drop in only once in a while, having handed over the recipes that has their son - and now hundreds of other diners - smacking their lips and coming back for more. Daily operation of the restaurant falls into the hands of their three partners, one of whom used to be on the same basketball team as Yao's parents - once both keen players.
"This will hopefully change public perception the of Chinese restaurants in the US," said Yu Di, one of the partners, who said among those that serve a mostly non-Chinese clientele, this is the biggest and best Chinese restaurant in the city.
"The style reflects Yao Ming and his youthful and vigorous life," explained Yao Zhiyuan.
Today's Top News
Top China News

President Hu sets forth guidelines on Taiwan




Rise of China's defence spending "modest"




Law only targets handful of secessionists




Women to get protection from harassment




China's housing prices up 14.4% last year




Italy seeks US answers over Iraq shootout