US human rights violations rebuked
By Yu Zhong (China Daily)
Updated: 2005-03-04 01:47
Serious human rights infringements are threatening democracy with ruin, China claimed in its Human Rights Record of the United States in 2004 released yesterday.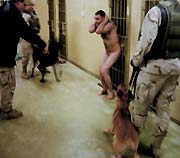 Dogs bark at a naked Iraqi POW in a US forces?prison in Iraq. This photo, which shows how US soldiers abused Iraqis in the Abu Ghraib prison on the western outskirts of Baghdad, is only one of the many that were published last spring as major pieces of evidence of prison abuse during the Iraq War.

The Information Office of the State Council yesterday released its annual report - a response to the Country Reports on Human Rights Practices for 2004 issued by the United States on February 28.

The Chinese record lists a multitude of serious violations of human rights in America.

Lin Bocheng, secretary general of China Foundation for Human Rights Development, said the report exposes and "castigates the misdeeds of the US on human rights and its power politics, hegemonism and double standards on human rights issues."

Lin added: "The record reminds the US of its own violations and asks the country to dedicate energy into improving its own poor human rights situation instead of interfering in domestic politics of other countries or playing a role of 'human rights police'."

The report was compiled on a basis of world peace and development and interprets the correct stand China holds on human rights issues, he said.

"China always proposes the development of human rights is a gradual process and should be connected with different national conditions. China insists dialogues in solving this issue," he added.

Professor Feng Zhuoran of the Capital Normal University said it is important for the global community to jointly educate the US on human rights equality and other related culture.

"The report urges the US to approach the human rights issues of other countries from an equal perspective," said Feng.

Both experts claim the Chinese Government enacted significant advancements last year in shielding human rights for its people. They believe each nation should handle its own problems.




Today's Top News
Top China News

Nation sees the power of CPPCC proposals




China lashes out at US human rights violations




Birth defects on rise after checks loosened




Today's special: slam dunking super star




China experiences rising school dropout rate




US troop deaths in Iraq rise to 1,500