China experiences rising school dropout rate
(Xinhua)
Updated: 2005-03-04 00:56
Effective measures should be taken to address the issue of rising dropout rate in rural schools in a bid to maintain a long-term sustainable economic and social development in rural areas, Chinese lawmakers and political advisors said on Thursday.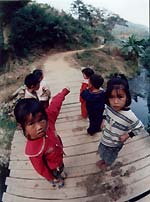 Children in a remote mountain area of southwest Guangxi Zhuang Autonomous Region find their village is 14 kilometers away from the nearest school.

A recent survey conducted by the Central Committee of China Association for Promoting Democracy shows the rate of dropouts in rural junior high schools has approached nearly 40 percent on the average. Among the dropouts, 16.7 percent have chosen to earn their living away from their hometown and 48.3 percent stayed at home as farmers.

The rising rate of dropouts in rural schools has gravely impaired rural educational development. It will inevitably influence the quality of farmers and hinder rural economic and social development, said Wen Jiating, a member of the National Committee of the Chinese People's Political Consultative Conference (CPPCC) who is in Beijing to attend the committee's annual session.

Zhang Chengfen, also a member of the CPPCC National Committee, urged the government and relevant departments to strengthen their responsibility over the nine-year compulsory education and set an agenda to address the issue of rural dropouts.

Wen Jiating said the reasons behind the rising rate of dropouts in rural schools are not only financial concern of parents, but also the students' boredom with classes.

"The patterns of rural education should be modified so that it is oriented towards not only enabling students to pass college entrance examinations, but also improving the quality of farmers as a whole," said Wen.

On the one hand, Wen said, rural schools should stop following the steps of urban schools in the design of teaching and learning materials, which should be rearranged in a way that benefits rural students in their future work and life.

on the other, the income gap between urban and rural teachers should also be bridged so that high-caliber teachers are willing to work in rural areas to help students enjoy their study, said Wen.

Deputies to the National People's Congress, China's top legislature, also suggested that pro-education policies and mechanisms should be instituted to support rural students in less developed regions.

China has launched a Hope Project on Oct. 30, 1989 to pool donations to help rural impoverished school-age children to complete primary school education. So far, 2.6 million needy students in China have benefited from the project by November 2004.




Today's Top News
Top China News

Nation sees the power of CPPCC proposals




China lashes out at US human rights violations




Birth defects on rise after checks loosened




Today's special: slam dunking super star




China experiences rising school dropout rate




US troop deaths in Iraq rise to 1,500