Birth defects on rise after checks loosened
(Xinhua)
Updated: 2005-03-04 00:56
China should amend the marriage registration regulations to reinstate mandatory premarital health checks so as to guarantee the health of newborn babies, according to a proposal submitted to the ongoing political consultative session.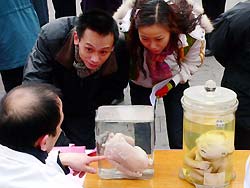 A couple watch attentively at embryo samples with birth defects at an exhibition to promote premarital health checks in Guiyang on January 19, 2005. [newsphoto]
"The rate of premarital health checks have plummeted as China ended the mandatory practice in the marriage registration regulations that took effect on Oct. 1, 2003," said Chen Shouyi, a member of the National Committee of the Chinese People's Political consultative Conference (CPPCC).
This situation has led to a noticeable rise in the rate of birth defects and newborn deaths, which could be spotted in premarital health checks and prevented, acknowledged Chen.
As the rate of premarital health checks dived to 3.1 percent in 2004 from 98 percent in 2001 in Ningbo City in eastern Zhejiang province, the rate of birth defects shot up to 19.56 per thousand births in 2004 from 12.6 percent in 2001, according to relevant statistics of the Chinese Ministry of Health.
Less than 10 percent of the would-be couples underwent premarital health checks nationwide in 2004, with the rate dropping to less than 1 percent in certain regions, noted statistics.
Of the premarital health checks conducted in China each year, venereal disease, hepatitis and other hereditary diseases are found in nearly 3 percent of the checks, said Chen.
Shandong Province, east China, spent more than 500 million yuan (about 60 million US dollars) on the raising the kids classified as congenital deformities and idiocies annually in the mid-1990s. Calculated on this basis, the relevant national spending could amount to tens of billions of yuan. The psychological burden on the part of parents should be even greater.
"It's apparent that the health of the newborn has an impact on the medical burden of the society," said Zhao Suqin, a deputy to the law-making National People's Congress.
Zhao, Chen and another CPPCC National Committee member have proposed amending the marriage registration regulations in a bid to make premarital health checks mandatory. In this proposal, they also appealed for reducing or exempting check charges of the disadvantageous group of people and phasing in free checks across the country.
The service standards of relevant medical workers should also improve so that more people have access to them, says the proposal.
"The marriage registration regulation, which took effect in 2003, is designed to respect individual privacy," acknowledge Chen, "but the rise in the number of birth defects also deserves attention."
Today's Top News
Top China News

Nation sees the power of CPPCC proposals




China lashes out at US human rights violations




Birth defects on rise after checks loosened




Today's special: slam dunking super star




China experiences rising school dropout rate




US troop deaths in Iraq rise to 1,500