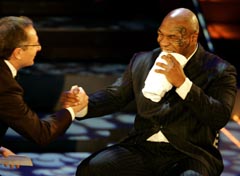 US former heavyweight boxing champion Mike Tyson (R) smiles as he shakes hand with Italian television host star Paolo Bonolis (L) during the San Remo Song Festival in San Remo March 2,2005. [Reuters]
"Iron" Mike Tyson, looking uncomfortable and mopping his head with a towel, has made his singing debut at Italy's most popular music festival despite critics who wanted him banned from the event.
"I'm not just a boxer. I'm a father, an uncle, a person who loves animals and it's not fair to see me just as a fighter," Tyson said, after announcing a June fight in Washington DC.
Prompted on by the festival's presenter, Paolo Bonolis, at the televised event, Tyson somewhat reluctantly sang several seconds of Italian ballad "Volare" opn Wednesday during the country's annual Sanremo music festival, watched by millions.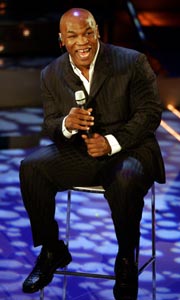 At one point, Tyson brushed Bonolis's hand off the boxing champ's knee, and looked slightly awkward during some of the softer moments of their one-on-one interview.
"You are a beautiful person," the festival presenter told his guest.
Tyson, the self-proclaimed "baddest man in the world", ended the segment by rapping a version of "New York, New York," that began by calling it "a big city of dreams" and abruptly ended seconds later with "I gotta get out of here".
Women's groups had asked that he be barred from the event. Tyson served three years in prison for the 1991 rape of a former beauty queen and was suspended from boxing after he bit off part of Evander Holyfield's ear in a 1997 title bout.
Tyson, who has millions of dollars in debts, reportedly earned as much as 70,000 euros from RAI to appear as the celebrity guest of the festival, famed for its otherwise middle-of-the-road, family friendly pop music.
(Agencies)