Talks on Iraqi coalition government falter
(Agencies)
Updated: 2005-03-03 08:59
Talks aimed at forging a coalition government faltered Wednesday over Kurdish demands for more land and concerns that the dominant Shiite alliance seeks to establish an Islamic state, delaying the planned first meeting of Iraq's new parliament.
The snag in negotiations between Shiite and Kurdish leaders in northern Iraq came as clashes and two car bombings in Baghdad killed at least 14 Iraqi soldiers and police officers ! the latest in a relentless wave of violence since elections Jan. 30.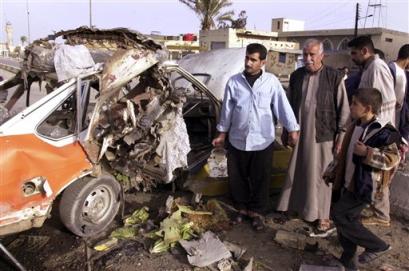 Ziad Mohammed Jassim stands next to the wreck of his car, that he claims was smashed by a U.S. armoured vehicle in Ramadi, an insurgent stronghold 113 kilometers (70 miles) west of Baghdad, Iraq, Wednesday, March 2, 2005, though the claim could not be verified. Clashes erupted between U.S. forces and gunmen after insurgents detonated a roadside bomb as a U.S. convoy passed. The explosion missed the convoy, but damaged two civilian cars that were in flames. [AP]

The group led by Iraq's most wanted terrorist, Abu-Musab al-Zarqawi, purportedly claimed responsibility in an Internet posting for Wednesday's clashes and at least one of the bombings ! as it had for a suicide car bombing Monday that killed 125 people in Hillah, a town south of the capital.

"The bombings in Hillah and again in Baghdad this morning are not going to derail the political process that Iraq is embarked upon," National Security Adviser Mouwafak al-Rubaie said Wednesday. "The Iraqi government will go after and hunt down each and every one of these terrorists whether in Iraq or elsewhere."

But forming Iraq's first democratically elected coalition government is turning out to be a laborious process.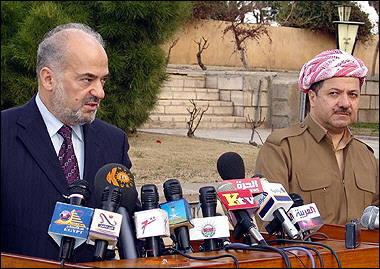 Shiite politician Ibrahim al-Jaafari (L) stands with Kurdistan Democratic Party leader Massoud Barzani during a press conference, in the northern city of Salahauddin. [AFP]

Shiite and Kurdish leaders, Iraq's new political powers, failed to reach agreement after two days of negotiations in the northern city of Irbil, with the clergy-backed candidate for prime minister, Ibrahim al-Jaafari, leaving with only half the deal he needed.

The Shiite-led United Iraqi Alliance, which has 140 seats in the 275-member National Assembly, hopes to win backing from the 75 seats held by Kurdish political parties so t can muster the required two-thirds majority for post top posts in the new government.

Al-Jaafari indicated after the talks that the alliance was ready to accept a Kurdish demand that one of its leaders, Jalal Talabani, become president.

"We, the United Iraqi Alliance, and I personally respect the Kurdish choice for Jalal Talabani to be their nominee for the presidential post. I will convey this honestly to my brothers in the alliance," he said.

However, he would not commit to other demands, including the expansion of Kurdish autonomous areas south to the oil-rich city of Kirkuk.

Kurdish leaders have demanded constitutional guarantees for their northern regions, including self-rule and reversal of the "Arabization" of Kirkuk and other northern areas. Saddam Hussein relocated Iraqi Arabs to the region in a bid to secure the oil fields there.

Politicians had hoped to convene the new parliament by Sunday. But Ali Faisal, of the Shiite Political Council, said the date was now "postponed" and that a new date had not been set.

"The blocs failed to reach an understanding over the formation of the government," said Faisal, whose council is part of the United Iraqi Alliance.

The Kurds, he added, were "the basis of the problem" in the negotiations.

"The Kurds are wary about al-Jaafari's nomination to head the government. They are concerned that a strict Islamic government might be formed," al-Faisal said. "Negotiations and dialogue are ongoing."

In another twist, alliance deputy and former Pentagon favorite Ahmad Chalabi was to meet Thursday with interim Prime Minister Ayad Allawi, whose party won 40 seats in the assembly. It was unclear why the meeting between the two rivals was taking place.

Both Allawi and Chalabi are secular Shiites opposed to making Iraq an Islamic state. Concerns over a possible theocracy are especially pertinent because the main task of the new assembly will be to write a constitution.

Although Kurds make up only about 15 percent of Iraq's population, they won 27 percent of the assembly seats ! largely because most Sunni Arabs did not participate in the elections, either to honor a boycott call or because they feared attack by Sunni-led insurgents trying to disrupt the vote.

Sunni Arabs, who comprise about 20 percent of the population, were favored under Saddam's regime, which oppressed the majority Shiite Arabs. Iraqi Kurds are mostly Sunni, but their Kurdish identity is far more significant to them than any tie to Sunni Arabs.

Wednesday's attacks in Baghdad began when a car bomb struck an Iraqi army base, killing eight soldiers and wounding at least 25. A second car bomb an hour later at an army checkpoint killed four soldiers. Separate clashes killed two police officers, the Defense Ministry said.

Also Wednesday, an Internet statement in the name of the Ansar al-Sunnah Army claimed the killing of two Turkish drivers abducted Feb. 25 on the road to Kirkuk, and a Swede of Iraqi descent who was kidnapped last month pleaded for his life in a video left at an international news agency in Baghdad.

It was not possible to verify the authenticity of either the claim or the video.

The latest violence came a day after the killings in Baghdad of an Iraqi judge and his son, both of whom worked for the tribunal that will put Saddam and members of his regime on trial. Three gunmen in a speeding car raked the pair with gunfire as they were trying to get into a vehicle outside their home.

The shootings marked the first time any legal staff working for the Iraqi Special Tribunal have been killed.

On Monday, the tribunal had issued referrals for five former regime members ! including one of Saddam's half-brothers ! for crimes against humanity. Referrals are similar to indictments, and are the final step before trials can start.

It wasn't clear, however, if the court actions inspired the killings of Judge Barwez Mohammed Mahmoud al-Merwani and his son, lawyer Aryan Barwez al-Merwani. The son was the local head of the Patriotic Union of Kurdistan, one of two parties in the Kurdish coalition.

Judges and other legal staff have not even been identified in public because of concerns for their safety, and tribunal officials have kept a low profile for the same reason.

The Iraqi Special Tribunal was set up in late 2003 after Saddam was toppled. But after five potential candidates were killed, some judges declined calls to work at the court. At least half the tribunal's budget has gone to security.

A court official, who declined to be named, said the slain judge was one of more than 60 investigative, appellate and trial judges working at the court.




Today's Top News
Top World News

Anti-secession law "won't" harm Straits ties




Owners forced to fund mine safety upgrading




Food police to watch over dinner tables




Airlines take flak over poor ground services




Official: new dynamic in N. Korea nuke talks




Survey shows most Chinese respect America